It's hard to think of a publicly traded Internet company that is not down at least 75 percent from its 52-week high and that hasn't trimmed its expenses or laid off workers. While industry groups have always drifted in and out of favor on Wall Street, it's rare to see an industry evaporate as quickly and completely as Web stocks did. – CNN Money, November 9, 2000
Starting in March 2000, Internet stocks staged one of the all-time greatest destructions of paper wealth, losing $1.7 trillion of market value between March and November 2000.
The dot-com bubble – and subsequent crash – is arguably the most memorable stock market phenomenon ever.
At the height of the bubble, dot-com stocks soared to absurd valuations. The price-to-earnings ratio of the DataStream Internet Index reached 285.5 in early 2000 before it finally came crashing back to earth.
Following the crash, just about every Internet company dropped the "dot-com" from its name. And to this day, they avoid the designation like the plague. Nobody wants to be associated with a term that has become synonymous with investor mania.
But the Internet isn't going anywhere, and the promise held by so many companies is finally coming true in many cases. Let's take a look at how the sector has fared since the infamous dot-com bubble burst, and see if there's any money to be made...
One of my most successful trading systems is based on buying industries that are cheap in relation to their historical median valuation. For instance, an industry trading for around 20 times earnings may not seem cheap at first glance, but if its historical median is 30 times earnings, you'll probably want to consider it cheap. Right now, the Internet sector is trading for around 53 times earnings.
While 53 is a large P/E compared to most other industries, in this case – given the enormous growth potential of Internet companies – I believe it is justified. The sector is a still very young, and we have only scratched the surface of what the Internet is capable of providing.
Also, since late 2002, the P/E of the DataStream Internet Index has fluctuated between 36 and 148. But during that time, the index has appreciated by more than 600%. A falling P/E doesn't always mean that the company's price is falling... Earnings for these companies have been outpacing the growth of their stock prices for much of the last three years.
In the chart below, you can see that the Internet Index's P/E spiked to 285.5 at the peak of the mania... then saw another spike when earnings evaporated, pushing the P/E as high as 337 before it plummeted once again. In other words, 53 is actually a cheap P/E for the Internet sector...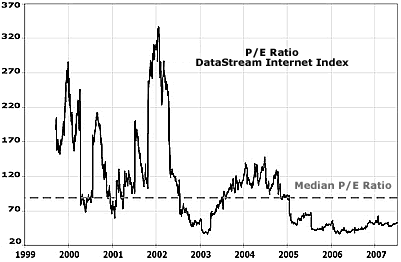 Now let's check the price performance of this "cheap" sector...
As you can see below, since bottoming in late 2002, the Internet index has rallied by 606%. Despite this enormous price appreciation, the P/E ratio is 7.7% below its October 2002 level, when the rally began.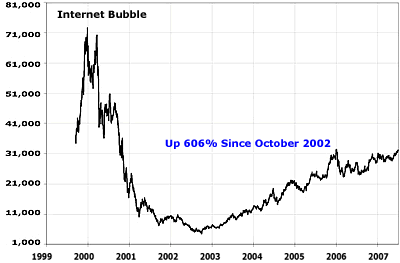 So what's a speculator to do with all of this? Well, you can do further research on any of the dominant Internet firms... Yahoo!, Google, and eBay leap to mind.
A continued uptrend should benefit all of these companies, along with Internet-focused ETFs such as the Internet HOLDRs (HHH) and the Dow Jones Internet Index Fund (FDN).
Good investing,
Ian Davis