The C wave can be painful. Or, it can be a terrific opportunity...
We've already gone over the concept of an
A-B-C correction
. The A wave is the first move lower. The B wave is the inevitable bounce off of the lows. And the C wave comes back to re-test the lows and perhaps wash out a bit lower.
The A wave ended with last Thursday's dramatic decline to 1,371 on the S&P 500.
At the high of the day yesterday, the S&P was trading at 1,472. That's a gain of more than 100 points in just one week.
That's one heck of a B wave!
My original upside target for a bounce was 1,500. We're still more than 30 points away from that. But given the size of the move over the past few days, I'm doubting whether we'll actually get there. It's a case of "too much too soon."
And, it may be time to catch the C wave.
One index that looks highly vulnerable right now is the Nasdaq 100 (QQQQ). Here's the chart...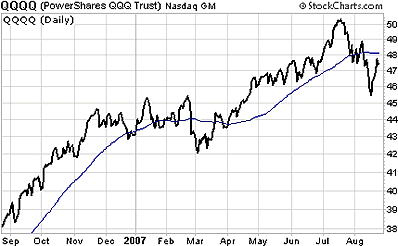 The Nasdaq 100 has rallied right back up to the 50-day moving average line. This is a natural area of resistance and is a logical spot at which to establish an initial short position.
No one knows for sure if this bounce has fully run its course and if the market is about to retest the lows of last week. But one thing I do know is that – in this environment – it makes sense to head into the weekend with one or two short positions.
And, if we catch the wave at just the right time, we could be hanging ten by Monday.
Best regards and good trading,
Jeff Clark