Everyone in Dubai has a story about the Boss.
To the rest of the world, Sheikh Mohammed is the prime minister and vice president of the United Arab Emirates. To Dubai residents, he's affectionately known as "the Boss" or "CEO of Dubai Inc."
One part Warren Buffett, one part Ernest Hemingway, one part modern-day monarch, the Sheikh is personally responsible for Dubai's transition from regional port city to financial and cultural epicenter of the Middle East. And Dubai residents love him.
The Sheikh has a personal fortune of $14 billion. However, when you add in the family fortune of the Maktoums, the amount more than doubles. (The Boss' full name is Sheikh Mohammed bin Rashid Al Maktoum. Mohammed is his given name; He's the son of Sheikh Rashid, hence "bin Rashid;" and his family name is Maktoum.)
Altogether, Sheikh Mohammed is estimated to be the fourth richest man in the world, though Forbes won't rank him because he's a ruler.
I've written several times about the profits you can make by following investing legends like Warren Buffett into a given investment. But there's another group of investors that is probably even more profitable to follow. They're the guys who actually set the laws in a given market.
One advantage to investing in a region controlled by royals is that their ownership acts like a litmus test for any given investment's potential. That is, if you see certain names – Maktoum, Saud, Nahayan – associated with a given investment, you know it will perform well. No banker, asset manager, or financial institution is going to lose these people's capital… at least not if they're interested in staying in business.
Simply put, you do not mess around with the ruler's money.
Because of this, seeing significant royal ownership in a particular investment is as close as you can get to guaranteed gains. Consider Global Investment House, which I wrote about
last month
, a Kuwaiti-based investment bank that trades on the Kuwait, Bahrain, and most importantly, Dubai exchanges.
Sheikh Mohammed of Dubai has put $217 million of his personal fortune into Global's stock, making him the largest shareholder, with more than 10% of the shares outstanding. How much does the Sheikh trust this firm? He put 25% more money into this firm than into Dubai Bank, which is based in his own sheikhdom.
So what are the odds of Global's stock plummeting on the Dubai Financial Exchange (DFIX)? Not very high, I'd wager. Since going public on the DFIX in 2005, Global's stock has simply refused to fall below 9.00AED.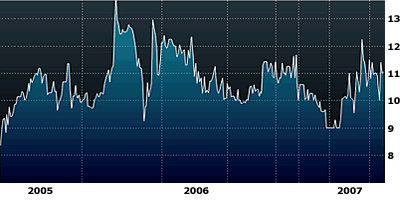 Don't get me wrong. In no way am I claiming there's market manipulation going on here. But what I am saying is that if a ruler like Sheikh Mohammed establishes a large portion in a company trading under his jurisdiction, you can bet that company will perform well.
Regarding Sheikh Mohammed's purchase of Global's stock, the Sheikh takes a Warren Buffett-like approach to investing – he treats a share purchase as buying part of the business, not as a trade looking for quick share price gains. So while Global's stock has yet to truly soar, I don't think it will be long before it will.
The fourth richest man in the world and ruler of Dubai is certainly betting on it.
Good trading,
Graham