When you're looking for triple-digit gains, you need to sift through the stock market's bargain bin.
The problem with a market that goes straight up for several months is that the bin is empty. Now, we have to choose between joining the momentum herd and chasing stocks higher... or exercising a bit of patience and waiting for new bargains to arrive.
Of course, we all know that it's smart to buy low and sell high. But when giddiness rules the market, it's tempting to try to buy high and sell higher.
Momentum investing – which involves buying stocks as they break out to new highs – can be a fun pastime and a quick way to make an easy 5%, 10%, or even 20%. But when the momentum turns – and it always does – you can lose that amount and more. For most investors, this style of trading simply isn't worth the risk.
It's much safer and, in the long run, much more rewarding to look in the clearance aisle for a cheap, unloved stock that has suffered a long period of decline but is starting to show signs of life.
It's getting more and more difficult to find the unloved bargains, but they're out there...
Six weeks ago, we told you about
Wal-Mart
(
WMT
). The stock was trading at the low end of its historical valuation range, and we thought it was unlikely to stay at that level for much longer.
Yesterday, Wal-Mart reported a better-than-expected 10% rise in fourth-quarter profits. And now, WMT shares are about 10% higher than when we first mentioned the stock.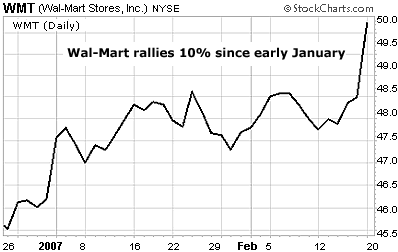 While 10% in six weeks is a pretty good return, it's a far cry from triple digits. To get a double, you need to use options, pairing them with conservative stock ideas to create low-risk, high-reward scenarios.
In the S&A Short Report, we recommended an option combination trade that was designed to profit if Wal-Mart rallied, if it stayed the same, and even if it fell a bit. And, best of all, we only needed to put up 20% of the amount required to buy the stock.
The trade is up 50% in less than two months and well on its way to a double.
You don't have to chase the momentum stocks and you don't have to take on a lot of risk to generate high returns. Finding a good bargain-basement stock and then crafting the right options strategy around it will do the trick.
Best regards & good trading,
Jeff Clark