We're getting mixed messages.
From a technical standpoint, the S&P 500 looks set for further drops.
We've now seen the S&P 500 rally above its 50-day moving average (the blue line) twice in the last month. The first time, we were turned away at 1,440. And we've yet to break above that level with this current rally.
Should the S&P 500 stage a sustained rally above 1,440, we're in for a nice bull run. However, not once in the last three years has the S&P 500 dropped as much as its recent correction without falling below its 200-DMA (the red line) soon after.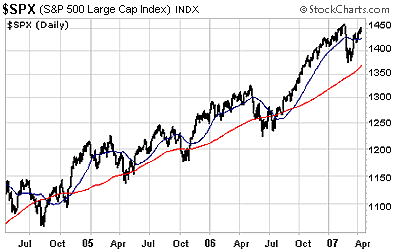 The truth of the matter is that the S&P 500 has been due for a correction below its 200-DMA for months now. February's dip didn't even come close. We're not going to play fortuneteller... but at some point in 2007, I expect we'll see the S&P 500 fall below its secondary support line for a while.
And yet, in spite of the likelihood of another market correction,
insider sentiment
continues to improve. For the month of March, insiders bought $758 million worth of stock and sold $9.9 billion worth of stock, bringing the sale-to-buy ratio to 13 to 1: below the historic average of 20 to 1.
Insiders continue to load up on energy and finance stocks.
As of March 19, oil and gas exploration/production companies led the pack for insider buying. Insiders are also loving regional banks, mortgage REITs, investment banking, and brokerages. Collectively, these sectors accounted for 56% of March's insider buying. It's an interesting trend, considering all the terrible headlines written about the
mortgage market
.
Most regional banks are too small and illiquid for me to make official recommendations in my Inside Strategist advisory. But the following banks have experienced significant insider purchases in the last couple of months:
| | | |
| --- | --- | --- |
| Company | Symbol | Insiders Bought |
| Centerstate Banks of Florida | CSFL | $2.2 million |
| Capital Bank Corp | CBKN | $2.1 million |
| TrustCo Bank Corp NY | TRST | $1.9 million |
| Capital Corp of the West | CCOW | $1.9 million |
| Community West Bancshares | CWBC | $1.8 million |
As for REITS, the following are popular among insider bulls:
| | | |
| --- | --- | --- |
| Company | Symbol | Insiders Bought |
| Consolidated Tomoka Land | CTO | $18.9 million |
| Saul Centers | BFS | $18.9 million |
| Resource Capital Corp | RSO | $13 million |
| JER Investors Trust | JRT | $12 million |

Consolidated Tomoka
is a favorite of my colleague Dan Ferris – his readers have tripled their money since September 2003. Recently, 10% beneficial owner Wintergreen Advisors has been buying CTO stock hand over fist. The company is Wintergreen's second largest holding, comprising 6% of its portfolio.
Saul Centers is a shopping center REIT with properties in Maryland. Over the last two years, CEO Francis B. Saul has bought $30 million of his company's stock. During that time, shares rose from $33 to $55. This is an excellent company yielding 3%.
If you're willing to go against the crowd that believes a further mortgage meltdown is in the cards, consider this list of insider buying as a good starting point.
Good trading,
Graham