The dollar is going to rally.
By now, we've all heard the endless reports that account deficits are spiraling out of control, that the U.S. economy is busted because of the housing bubble, that the dollar is doomed. The negative press is overwhelming.
And it's all already weighing heavily on the dollar.
Since it was taken off the gold standard in 1975, the U.S. dollar is a paper currency. And throughout history, paper currencies have always crashed. Ultimately, the dollar will add itself to the list.
But currently, the dollar is oversold. To some extent, the doom and gloom has already been priced in. You can see this in a 20-year chart for the U.S. Dollar Index.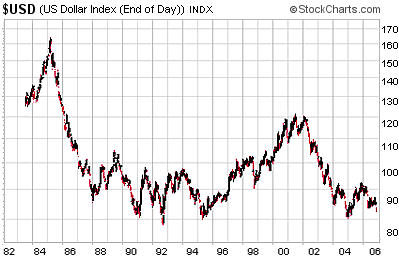 The U.S. Dollar Index takes the geometric average of six foreign currencies versus the dollar. As such, it's a great gauge for whether the dollar is under- or overvalued compared to other major currencies.
Going back more than 20 years, whenever the U.S. Dollar Index hits 80, it rebounds, usually to the mid-90 range. This happens every single time.
And right now, the dollar is attractive from a yield perspective. Money tends to flow where it's best treated. And right now, U.S. dollars are yielding far more than most major world currencies.
| | |
| --- | --- |
| Currency | Yield |
| U.S. Dollar | 5.25% |
| Euro | 3.50% |
| Yen | 0.40% |
| Swiss Franc | 2.03% |
| Yuan | 3.09% |
There are plenty of talking heads and analysts who argue that the dollar can and will fall farther. Bloomberg news reported recently:
Standard Chartered, a London-based bank predicts the dollar will drop to a record $1.38 per euro by March 31, from $1.3001 presently.
Deutsche Bank, Germany's biggest bank, predicts a dollar decline to $1.33 by the end of March. BNP, the biggest French bank, says the dollar will fall to $1.35 in the same period.
So the dollar is near its historic lows, yielding more than most major world currencies, and everyone says it's due to fall farther. It very well may... but from a yield perspective, the dollar is growing more and more attractive every day.
And in the end, money talks and opinions walk.
Good trading,
Graham