Holding a trade through an earnings announcement is always a gamble.
The company could blow away expectations and see its stock skyrocket. Or maybe the market has already factored that in, and the stock falls instead.
The company could disappoint Wall Street and watch its stock collapse. Or maybe the stock is already "sold out" and it actually rallies on the bad news.
My point is that, most of the time, betting on how a stock will react to an earnings announcement is no better than betting on black or red at the roulette table.
But every once in a while, the market provides clues that can help shift the odds in our favor. Take Weight Watchers (
WTW
) for example...
Last week,
I wrote about the seasonal patterns
that typically make WTW a "sell" this time of year. I also pointed out that Wall Street didn't look too kindly on the revenue guidance from WTW's chief competitor, NutriSystem. And, when you combined those clues with WTW's plump valuation, it set up a trade that favored the downside.
Yesterday, Weight Watchers reported earnings and a weak 2007 profit forecast... and promptly dropped 9% on the news.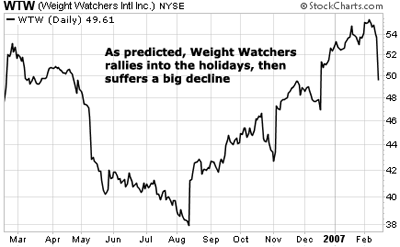 Last week, we also got some pretty good clues from nanotech specialist FEI Corp. (
FEIC
).
FEIC reported fabulous numbers, and Wall Street rewarded the stock by pushing it sharply higher.
I wrote that this was a good sign
for the rest of the nanotechnology sector and in particular for one stock that was scheduled to announce earnings yesterday.
That stock is now 8% higher than where it was last week.
Trading stocks through earnings will always be a bit of a gamble. But by paying attention to seasonal patterns, and by exploring a stock's relative valuation for signs of excessive optimism or pessimism, you can shift the odds in your favor.
But the absolute best way to beat the house in this game of earnings roulette is to watch how investors treat other stocks in the same industry.
It's a pretty good bet they treat your stock the same way.
Best regards and good trading,
Jeff Clark