Two things worry me about the stock market right now...
Wait... that's not quite right.
There are dozens of things that worry me. But two of them scare the heck out of me.
The first is the dismal performance of Merrill Lynch (MER). I've written quite often about MER as Wall Street's version of the "canary in the coal mine" (you can read about it
here
and
here
). And the canary is not looking too good...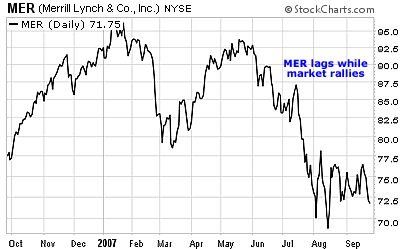 The direction of the stock market is suspect if MER is not along for the ride. It may seem like a relaxing Sunday afternoon drive toward Dow 14,000. But shares of MER are telling us the road ahead is washed out. And we need to pay attention lest we get into a crash.
The other scary thing is the lagging performance of the semiconductor stocks.
Technology stocks have been on fire lately, and the tech-heavy Nasdaq has been burning the brightest. But the semis keep fizzling out.
Semis typically lead the market, so their underperformance is noteworthy. But it's even more worrying now because the sector is on the verge of breaking out of a six-year-long consolidating-triangle pattern...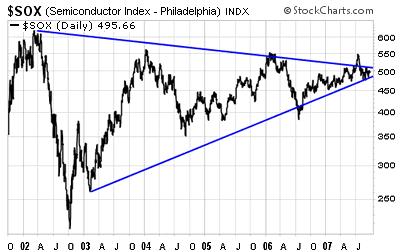 When I first wrote about this chart back on
July 26
, it looked bullish. Now, I'm not so sure. Semiconductor shares haven't gained any ground over the past three weeks. And if they can't rally when buying pressure is so heavy, then what's going to happen when a little selling pressure comes in?
One thing is for sure... whichever direction the chart breaks, it's going to be a big move. Long consolidation patterns lead to big moves in stock prices. This pattern is more than six years old – one of the longest I've ever seen – and the break should be dramatic.
It's premature to get too bearish right now. After all, semi stocks could still break out to the upside. And if that happens, then we'll be talking about Dow 15,000 really fast.
But I think the odds now favor the other direction. A breakdown in the semi stocks, along with weakness in MER shares – and a litany of other bearish technical indicators – could give us a retest of the August lows, or worse.
We are in for a very interesting October.
Best regards and good trading,
Jeff Clark