Chinese stocks are on an amazing run.
The Shanghai Stock Exchange is up almost 200% over the past year. And it's going parabolic.
As a friend of mine said recently, "Chinese stocks are just like the food. You buy one stock, and 20 minutes later you want to buy another."
Just look at this chart...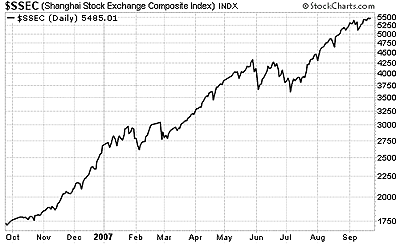 But unlike a bad serving of moo shoo pork, which might cause a little indigestion, buying into this market after such a dramatic move higher could be terminal.
There's nothing logical about this type of move... It's all about momentum.
Logic and momentum often follow the same path. Sometimes, though, momentum gets too far ahead. The results are almost always disastrous... But it takes a while to play out.
Think about Internet stocks back in 1999. The disconnect between logic and momentum lasted forever. Investors rode stocks like JDS Uniphase, Sycamore Networks, and Commerce One to dizzying heights.
Fortunes were made on the way up – just as fortunes are being made in China right now. But even bigger fortunes were lost when the Internet bubble popped. And the same fate awaits those who stay in China too long.
Chinese stocks haven't yet reached the level of popularity that we saw with Internet stocks in 1999. So there's probably a bit more upside to go, and it's still too early to short sell the sector. But we're getting really, really close.
My guess is that by January 2008 – along with toys, dog food, and jogging shoes – the next big stock market decline will be made in China.
Best regards and good trading,
Jeff Clark