A tiny sector got a huge boost yesterday...
Shares of FEI Corp. (
FEIC
) jumped 27% higher on Wednesday after reporting better-than-expected earnings. As you can see from the chart below, it's the latest in a string of new highs for the stock, up 70% since August.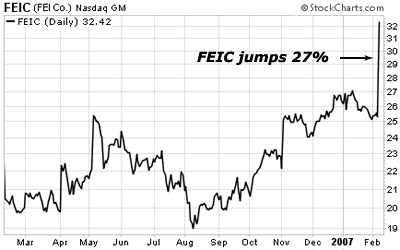 FEIC is a large component of the PowerShares Nanotech ETF (
PXN
), which just happens to be one of the four nanotechnology positions I've recommended to subscribers of
The Big Trend Report
. So of course, we had a nice pop in the portfolio yesterday.
FEIC is a
"picks and shovels" play
on nanotechnology. The company manufactures microscopes... but not the kind you and I used back in high-school chemistry class. These are high-powered electron microscopes that enable scientists to examine objects as small as
one-billionth of a meter
.
And what exactly are the scientists looking at under those high-powered microscopes?
They're looking at nanotubes and buckyballs – cylindrical and soccer-ball shaped formations of carbon atoms, which just happen to be manufactured and sold by another Big Trend portfolio holding. Odds are pretty good we'll see another nice surprise when this company reports earnings next Tuesday.
The stellar results from FEIC confirm that companies are spending more and more money on nanotechnology. And the boom is just beginning.
There's no guarantee that all companies in the sector will follow FEIC's lead and blow away analysts' expectations. But earnings surprises on Wall Street are kind of like rabbits. If you put a couple of them together, then pretty soon you have a whole colony.
We'll be hearing earnings reports from a lot more nanotechnology companies over the next few weeks. If investors' reactions are anything like what we saw with FEIC, then it'll pay well to be in on the trade ahead of time.
Best regards and good trading,
Jeff Clark