Did you buy materials? The timber, chemicals, ore, and steel needed to build your house, manufacture your car, make all the products you use every day?
I first introduced the materials sector in mid-November 2006. At that time, I felt concerns over a potential economic slowdown as well as a potential bursting of the housing bubble were overblown.
I believed that Tom, Dick, and Harry were going to continue to push things along by buying products with money they didn't have. I also believed that housing stocks would rebound strongly in 4Q06. I was right on both counts, and materials stocks soared.
The iShares Materials Index (
IYM
) has risen more than 10% between mid-November and today. Our
Inside Strategist
materials play is up 20% in the same time period. And yet, I wish we'd bought the sector earlier.
Dow Jones just announced that its Materials Index trailed only its telecom and oil and gas indexes for 2006 performance. All in all, the Dow Jones Materials Index rose 19% in 2006. Over the last three years, the index has shown investors annualized returns of 14%.
Between 2004 and 2006, you could have bought nothing but materials stocks and trounced the market. In fact, for the last five years, the Materials Index has vastly outperformed the S&P 500, as shown in the chart below.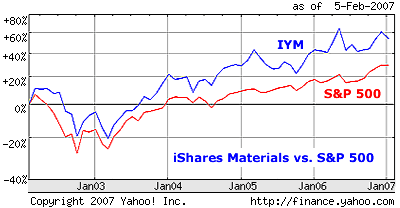 Investment trends usually take five years to play out. For the first couple of years, the new trend is popular only among contrarians. Around year three or so, the general public begins to get involved. And during the final two years, a degree of mania kicks in. Consider the tech bubble from 1996-2001, or how about the real estate boom from 2001-2006?
You probably noticed that these trends tend to reverse one another. That is, whatever rises for five years straight will usually then be outperformed by its exact opposite. Thus, we went from strength in tech stocks in the late '90s, to strength in commodities and tangible goods in 2001.
The last five years were huge for energy, materials, and real estate. Not surprisingly, the worst performing indexes have been their opposites: health care, tech, and consumer goods.
I believe these last three sectors will dominate the next several years. Not surprisingly, all three sectors were popular with insider bulls in 2006. They're all cheap and unpopular with the investing masses.
But they won't be for long. And I have a feeling that we'll see the above chart again, only with tech way out front.
Good trading,
Graham