Timing is everything.
Whether you're trying to hit a fastball, tell a joke, or trade options on stocks, your success or failure all boils down to one thing… timing.
Timing is the difference between hitting a home run and striking out. It's the difference between a room filled with laughter and a room filled with the sound of chirping crickets. And it's the difference between trading for a profit and taking a loss.
While technical analysis can't do much to improve your batting average or your sense of humor, it'll do wonders to help you trade profitably.
Yes, I know there are all sorts of smart people that'll tell you that you can't time the stock market. But they're wrong. You can time the stock market.
Stocks give off clues when they're about to make a major move. By using technical analysis and
studying stock charts
, you can pick up on those clues and use them to improve your timing.
For example, one of the most powerful chart patterns is the consolidating triangle. This pattern is formed as a stock traces out a series of lower highs and higher lows. The support and resistance lines on the chart come closer and closer together and form a triangle. When a stock breaks out of the triangle, it often leads to a very strong move – and a very profitable move if you're on the right side of it.
Look at this chart of Pioneer Natural Resources (PXD)…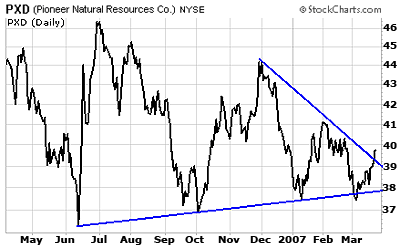 Notice how the support and resistance lines come together and form a triangle. Notice also how the stock broke out to the upside of this pattern. This is a bullish development and most often leads to sharply higher prices. So we recommended call options on PXD for subscribers of the S&A Short Report.
Here's what happened four days later…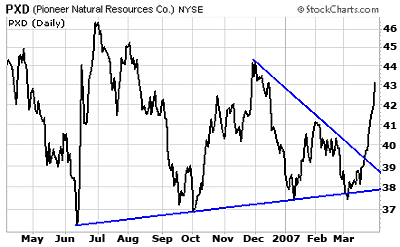 The stock jumped 8%, and the call options we recommended surged 80%.
That's a pretty dramatic move, and we timed it right because we picked up on the clues in the stock's chart pattern.
Fundamentally, PXD was a cheap stock. It traded with a single-digit price/earnings multiple. It had a strong balance sheet. And it had good earnings momentum.
But it didn't make any sense to own the stock or its call options until it was ready to start moving higher. When the chart finally broke out to the upside of the consolidating-triangle pattern, it signaled it was ready.
The consolidating triangle is just one of several chart patterns that often lead to big moves in the underlying stock. If you can recognize these patterns, then you can improve your timing.
And timing is everything.
Best regards and good trading,
Jeff Clark