The market gods are a cruel, cruel bunch.
They laid a short gold trade out in front of me like a fly fisherman dropping a caddis nymph right in front of a 24-inch brown trout. And I took the bait.
Gold stocks were the worst performers during the recent market correction. And gold bullion failed to rally when it clearly should have been viewed as a safe haven. So, it made perfect sense to advocate selling the sector, and even shorting positions as an aggressive trade. After all, if gold can't rally when the entire world is falling off a cliff, then it's destined for lower prices.
And that trade was destined to be scaled, filleted, and sautéed at the bottom of a frying pan.
S&A Short Report subscribers took a 5% loss on the trade yesterday as gold gapped sharply higher in early morning trading. But that doesn't make it a bad trade.
Successful traders measure the probability of success of a trade against the risk of a loss. Two weeks ago, the odds vastly favored the probability of a decline in gold and I wrote about it here. So, being short the gold market was a trade that made sense...
But it didn't work out.
As you can see from the following chart, gold broke out to the upside and now looks ready to move even higher...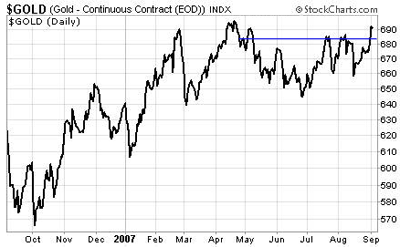 S&A Short Report subscribers covered their short positions soon after the opening yesterday. And we took a small loss on the trade. But it still makes sense to risk 5% for the opportunity to make 20%, and if I was faced with the same situation today, I would make the exact same recommendation.
Taking losses is a part of trading. No one gets it 100% right. Heck, if you can do better than 50%, then you're doing quite well. So it's important to keep your losses small.
My short gold trade is an excellent example of a trade I got wrong. And I'll retreat to my foxhole for a few days before getting back into the battle.
But this is also a good example of the importance of recognizing when a trade goes against you and keeping losses to a minimum.
There's no pleasure in taking a 5% hit on a trade. But it leaves plenty of chips available for future hands when the cards are a bit more favorable. Which, from a trader's viewpoint, could be a few minutes from now.
Best regards and good trading,
Jeff Clark