The 16th-century conquistadors never discovered El Dorado, their mythic city of gold, but they did return to Spain with an even more precious metal.
Italian scholar Julius Scaliger first described this amazing metal for Europeans in 1557. Harder and heavier than gold, it was called platinum, from the Spanish word platina, or "little silver."
Ironically, Spain's conquest of the New World uncovered platinum, but simultaneously erased the knowledge of how to smelt its ore. In fact, the means for smelting malleable platinum from its ore eluded European chemists for centuries.
Finally, in 1805, chemist William Hyde Wollaston solved the problem... and it made him rich. Wollaston spent the next 23 years building his fortune from the discovery. Only when he neared his death in 1828 did he reveal the secret.
Today, most of America knows about platinum because of its popularity in jewelry. In fact, industry consumes the bulk of the metal. The entire platinum group – which includes palladium and rhodium – is incredibly useful, and its utility is growing in many new sectors.
Platinum group metals
(PGMs) play a huge role in catalyzing reactions in petroleum combustion. In fact, nearly half of all platinum and
palladium
– and nearly three-fourths of all rhodium – goes to manufacturing catalytic converters.
In addition, the utility of PGMs extends from today's automobiles into tomorrow's. Hydrogen fuel cells use PGMs to increase the efficiency of the reaction from hydrogen to water. PGMs are essential catalysts in oil refining and many chemical-manufacturing processes. PGMs are also finding new uses in computer screens, cell phones, cancer drugs, surgical implants, and prosthetics.
The current production of PGMs simply won't increase rapidly enough to keep up with demand. In fact, PGM demand has been outpacing production for the last 18 months, pushing up prices:
The Platinum Group Metals Are Rising...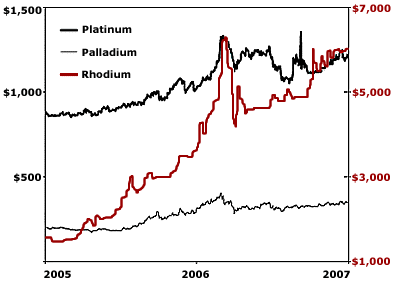 New mine production adds only about 5 million ounces, about 4.4%, a year. In 2006, PGM demand rose by 7.1%.
According to the CRB Commodity Yearbook, all the platinum group metals ever mined could fit in an average living room. Palladium stockpiles have fallen 67% since their March 2006 peak and now sit at 2005 levels.
Sure, PGM prices have run up from their levels of just a few years ago, but we're in for a long bull market in precious metals. In other words, PGM prices should remain strong for the foreseeable future... and investing in the right PGM miners will be a lucrative activity for years.
Good investing,
Matt