Semiconductor stocks
, the most notable laggards of the stock market over the past four years, are going to lead the market to new highs later this year...
The
underperformance of semiconductor stocks
earlier this year was a major warning sign for the broad stock market. Now, however, the broad market has suffered through a correction – a correction that may not be over just yet – but the semis are displaying relative strength.
Look at this chart that compares the performance of the semiconductor index (SOX) with the performance of the broader tech market as represented by the Nasdaq Composite (COMPX)...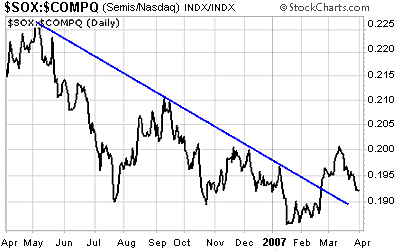 During periods when the chart is declining, such as from last May through last July, semiconductor stocks are weaker than the broad market. That condition usually results in poor stock market performance.
When the chart is rising, such as the period from August through September, semiconductor stocks are stronger than the broad stock market. This action typically occurs during strong stock market rallies.
Notice the recent spike higher in the chart. Semiconductor stocks held up well compared to the rest of the market during the recent correction. That's no great surprise. Investors were simply selling stocks and locking in profits on positions that had moved up sharply.
Since the semiconductor stocks had lagged so badly, the sector was already sold out.
What is particularly interesting, though, is how the chart has broken above its downtrend resistance line. This action very likely signals a new period of outperformance for the semiconductor sector... and is a bullish sign for the stock market. After all, if semiconductor stocks run higher, then the rest of the market will follow along behind.
Over the past two weeks, the chart has come back down to retest the broken downtrend resistance line. This sets up a good low-risk/high-reward opportunity for conservative investments in the sector.
Best regards and good trading,
Jeff Clark