It's been four and a half months and nothing has happened…
On April 17, the S&P 500 closed over 1,470. That's just a fraction below where it closed this past Friday.
Oh sure, we've been as much as 80 points higher and up to 100 points lower. But, for the most part, stocks are basically right where they were four and a half months ago. So, even though we've seen stock market volatility increase dramatically, it's like watching a runner sprinting on a treadmill. He uses up a tremendous amount of energy, but doesn't really go anywhere.
And it's tough to rack up double-digit gains when you spend more than one-third of the year not making any progress.
I know that's awfully short sighted of me. After all, the most successful long-term investors don't worry too much about performance over just a few short months. My guess, though, is that most people are going to be a bit disappointed when they look at their month-end statements and realize they could have done better in a passbook savings account.
There just aren't too many investments that are performing well right now. Stocks are going nowhere. Bonds are going nowhere. Real estate is… well, let's just say it's reverting to the mean. Commodities are down on the year. And, if you're trying to trade, then you know this is one of the most difficult trading environments we've seen in the past decade.
There are only two strategies that are working really well right now:
selling naked puts
and
selling covered calls
. Not surprisingly, both these strategies work best when stock prices go nowhere and when volatility is high. You see, as volatility increases, so does the price of option contracts…
Take a look at this chart of the Volatility Index (VIX):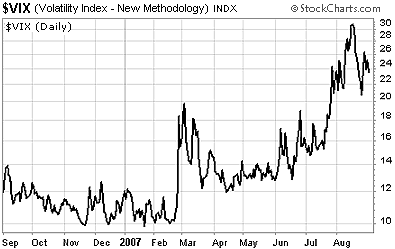 You can see that volatility is twice as high as it was back in April. Stocks have been all over the place, and that action has inflated the premium on option prices, creating a perfect environment for sellers of option contracts.
We're still in a correction phase for stocks. The subprime and mortgage market fiascos are going to keep a lid on bond prices for quite some time. Gold and oil remain vulnerable. And you can forget about real estate.
So if you're looking to earn double-digit gains between now and the end of the year, then your best bet is in covered calls and naked puts. And if you do it right, then you can earn those gains without taking on much risk.
Best regards and good trading,
Jeff Clark