Remember the Reebok Pump?
It had that little button on the tongue of the shoe that would fill the insole with air. Reebok made a fortune off of that... for a while.
Perhaps you recall the LA Gear aerobic shoes that were all the rage back when Jane Fonda was selling videos and Olivia Newton John was singing, "Let's get physical." That was a blockbuster idea too... at least until the company went bankrupt in the late '80s.
Whether it's for fashion or for function, fads play a big role in selling shoes. The problem with most fads, of course, is that they're fleeting. They come and go like in-laws at Thanksgiving. And, when it comes to shoes, consumers tire of the fads as quickly as they tire of the in-laws.
Consider the saga of Heelys, Inc. (HLYS)...
Heelys makes the nifty little kids' shoe with the wheel in the heel. The wheel retracts into the heel so the shoe can be worn as a regular old shoe, or it can transform instantly into a modified roller skate. It's a durable foot covering that can also propel you down the sidewalk at breakneck speed – and it's totally cool (at least my kids think so).
Heelys reached the height of popularity just before the company went public last December.
The initial public offering was a huge hit. The IPO priced at $23 and traded as high as $38 per share on the first day of trading.
As it turns out, the Heelys fad peaked at just about the same time that HLYS went public. Sales have been disappointing, and the stock price... well, let's just say that any stunt man worth his salt would happily strap on a pair of Heelys and ride on down this graph...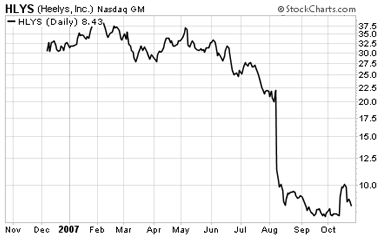 Heelys disappointed Wall Street once again last night when the company announced less-than-expected earnings. The fad is fading, and the stock price is fading right along with it.
Funny thing, though... At $8 per share, HLYS is a pretty attractive takeover candidate. The company is profitable. It has almost $2 per share in cash and no debt. The problem, of course, is that it's a one-product company targeting a small market (mostly children from five to 10 years old).
By itself, Heelys may just slowly wither away. But if it can team up with another company that has a little more success in keeping fads alive, then we might see kids wheeling down the sidewalk for years to come.
Then again, maybe that's just a
Croc
.
Best regards and good trading,
Jeff Clark