All eyes should be on Merrill Lynch (MER) tomorrow when it announces earnings. The market's reaction to MER's report will tell us a lot about the potential for a year-end rally.
A rally in MER shares is a good sign. A further decline is bad.
Yes, it is just that simple.
Recently, I cautioned that Merrill's inability to rally during the month-long, nearly straight-up move in the stock market was a sign of
impending danger
– like a canary keeling over in a coal mine. But investors kept digging in deeper, and the market kept going straight up.
I was about to go shopping for a new canary last week, but then the market started to turn over. And by the end of the day on Friday, the S&P 500 had given back nearly all of the gains since the FOMC meeting last month.
MER's performance was even more dismal. As you can tell from the following chart, shares of Merrill Lynch are now trading below the August correction lows...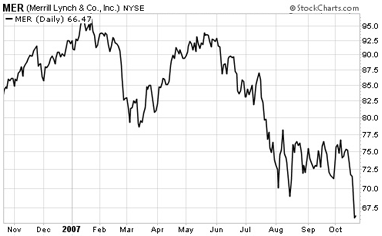 Wall Street's canary may be a warning of weaker stock prices. Or the market may just be discounting the worst possible scenario for Wednesday's earnings report.
Two weeks ago, Merrill Lynch announced that it expects to report billions of dollars in writedowns due to significant losses in collateralized debt obligations (CDOs) and subprime mortgages. And the stock actually rallied.
Investors must have been thinking that losing billions of dollars isn't so bad – as long as that's the end of it.
But the stock has since sold off back down, and there are rumblings that Merrill's pre-announcement was just the tip of the iceberg.
Frankly, I think the market is already discounting the worst possible scenario. Anything short of a disaster on Wednesday's announcement and the odds favor a rally in the stock.
And that's good for the overall stock market.
After all, a healthy canary is a good sign that it's safe to keep digging.
Best regards and good trading,
Jeff Clark