The great American farmer has had a rough few decades.
In inflation-adjusted terms, agriculture prices fell a shocking 78% between the end of 1974 and the end of 2002.
The fall is partly due to the natural deflating of a hard-asset bubble. (The hard-asset bubble was caused by rampant inflation in the 1970s and culminated in a blow-off peak in 1974). For almost the next three decades, agriculture was a one-way bet to the downside.
However, in the last few years, agriculture prices have finally started making a comeback. In fact, another 1974-style bubble may be approaching...
In the last 10 months alone, agricultural commodities have soared 58%... And once again, inflation may be the culprit.
America's huge mortgage problem has scared traders out of the dollar... It doesn't take any great insight to realize the U.S. government has to "inflate" away all of the bad debts. Like in the 1970s, this is bullish for hard assets, which are typically used as inflation hedges.
The following chart shows an agriculture index I constructed, with equal weightings in wheat, corn, soybean, cotton, coffee, and sugar.
Agricultural Commodities - A Late-Stage Bull Market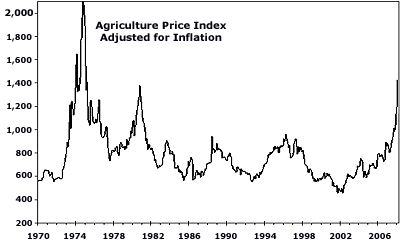 As you can see, when inflation ramps up (as it did in the 1970s and again over the last six years), grains go crazy. However, Inflation is just one of a number of bullish forces acting on the grain markets right now.
Let's look at some of the other reasons grain prices are rising...
Emerging economies: As developing countries, notably China and India, become wealthier, the amount of meat they consume increases. It takes about seven pounds of corn to produce just one pound of beef.
Rising fuel price: As recently as 2002, the price of a barrel of crude oil was $18.18. Today it is more than $90. Fuel powers farm machinery to harvest the crops, factories to process crops, and vessels and vehicles to transport the crops.
Biofuel: The U.S. Department of Agriculture estimates that 29% of the world's corn production will be used to produce ethanol in 2008.
The grains were the subject of a lot of speculation last month... so they may remain weak in the short term. But the long-term trend here is up ... and inflation will only further the rise. You can bet on grains through PowerShares' agriculture ETF (DBA), equally weighted in corn, sugar, soybeans, and wheat.
I believe DBA could continue climbing for another six months to a year. Just be ready to take the other side of the trade once the frenzy has reached its peak.
Good investing,
Ian Davis