It was as close to a sure thing as you'll ever find...
Natural gas almost always rallies during the fourth quarter. In fact, this is one of the most consistent and reliable trends I've noticed over my investing career. Just look at this chart...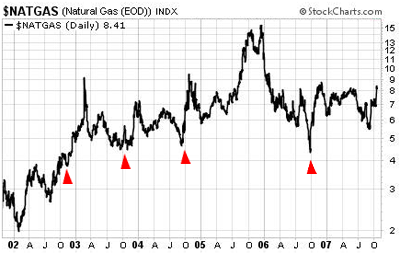 The exception in the past six years came in 2005, when prices bottomed in June. But even then, natural gas still rallied strongly during the fourth quarter.
This year, the action is similar to what we saw in 2002, 2003, 2004, and 2006. Natural gas declined sharply into this fall and settled for a moment around $5.50.
Last month, in the inaugural issue of my Advanced Income advisory, we decided to buy "stock" in natural gas. We bought United States Natural Gas Fund (UNG), a natural gas ETF, near the bottom of its historical valuation range... And because we sold call options against the position, we captured an instant 4% "overnight dividend" on the shares. We called it a "no-brainer."
It was a lot like strolling along the sidewalk and looking down to find a bag of $100 bills just sitting there in your path. You might be suspicious at first. After all, how can you be so fortunate? Why didn't somebody notice the bag before you? Are you being set up?
It's natural to doubt the validity of a trade that seems too good to be true. But I've made this trade for each of the past four years, and it's been profitable every single time.
As it turns out, natural gas did exactly what we thought it would do. It went up. Natural gas prices spiked sharply higher – up to $8.50 – and our UNG shares are now trading above the $41 strike price of our call options.
We entered this position for $36.40 just five weeks ago. And we locked in a 12% gain. Not a bad income stream for one month if you ask me.
Good trading,
Jeff Clark