Traders have to look at yesterday's decline and any subsequent weakness this morning as a buying opportunity.
I don't know if last week's drop down to 1,260 in the S&P 500 was the bottom of this bear market. Frankly, I don't think it was. But it sure looks like it was a bottom. And in a bear market, there are just two ways to make money: selling short into overextended rallies or buying stocks in anticipation of dramatic bear-market rallies.
The action over the past week has the look and feel of the beginning of an intermediate-term bear-market rally.
Let me explain...
I think last week was the start of this move, and it will continue for the next few weeks.
Take a look at one of my favorite momentum indicators – the Nasdaq's Bullish Percent Index (BPCOMPQ)...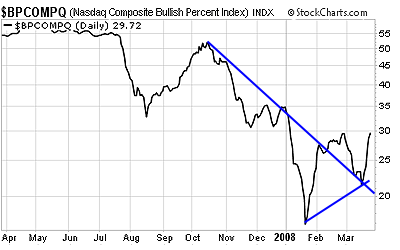 The BPCOMPQ is a simple measure of whether the stock market is overbought or oversold. Normally, it bottoms out around 30 or so and then rallies higher.
On January 22, however, the index collapsed to a ridiculously low level below 17. Since then, we've seen a strong bear-market rally followed by a decline to a fresh new low in the S&P 500. Notice, though, that the BPCOMPQ failed to make a new low. This "positive divergence" suggests the internals of the stock market are stronger than the major indexes indicate.
And the odds favor higher stock prices from here.
Let's be clear... stocks are still in a bear market and likely have farther to fall. But for the intermediate term, we should see some strength. I've been looking for a move back up toward 1,400 or so in the S&P 500, and that is my target for this intermediate-rally phase. In fact, I think we might see something closer to 1,425 or so before any serious selling sets in.
So as tough as it is to do, traders need to be buying into the current weakness. We can look at selling, and selling short, as the S&P 500 approaches the 1,400 level.
Best regards and good trading,
Jeff Clark