If you're looking to buy gold, or even add to your existing gold hoard, then cross your fingers and hope this current decline takes the yellow metal all the way back down to about $800 per ounce.
Ever since the gold bull market kicked into gear back in late 2001, price corrections have been relatively modest. And every decline held above gold's 65-week moving average. Take a look at this chart...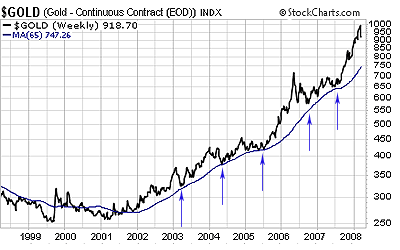 This is a weekly chart of the price of gold plotted against its 65-week moving average. The arrows indicate when the metal fell to within striking distance of the support line. Each case turned out to be a terrific buying opportunity.
Notice, however, this time the moving average is a whopping $250 per ounce below the $1,000 price point that has, so far, marked the top of the recent bull run. So even though last week's dramatic decline took a lot of air out of the golden balloon, there's plenty more room for gold to fall before it presents us with a low-risk buying opportunity.
Of course, any time I write anything negative at all about gold, I receive gobs of hate e-mail from readers who think gold can only go up – no matter what the price. Nothing goes up every day. And after such a tremendous, parabolic run higher, it's reasonable to expect gold will give up some of its gains.
As a trader, it makes sense to sell a bit here and look to buy back lower. Investors, on the other hand, should keep an eye on the 65-week moving average and plan on adding to positions as the price declines down toward it.
Right now, the 65-week moving average is just about at $750 and it's rising nearly $5 each week. If the current decline phase lasts a few months – similar to the 2006 correction – then the moving average will probably be somewhere around the $800 level.
If gold is anywhere near $800 per ounce when that happens, buy it.
Best regards and good trading,
Jeff Clark