There's nothing like the fall in northern California.
The leaves are changing color. The days are shorter. The weather is cooler.
And last weekend, as my wife boxed up her summer clothes and unpacked her sweaters, I could tell from the look on her face there was just one thing on her mind... "I can finally eat real food."
Let's face it; nothing conceals a few unwanted pounds like a nice wool sweater.
So, with baseball playoffs, Halloween candy, and Thanksgiving feasts just around the corner, it's nice to not have to face the pressure of a strict dieting regimen.
Well, "nice" that is, unless you're in the business of selling diet regimens. Look at what happened to NutriSystem shareholders last week...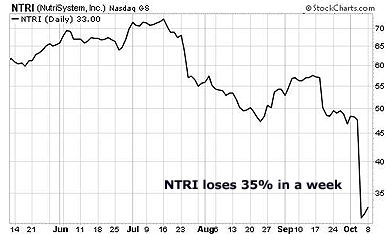 Shares of NutriSystem (NTRI) were crushed when the company announced preliminary earnings that were way below analysts' expectations. Management blamed the shortfall on increased competition from GlaxoSmithKline's new weight-loss drug, Alli. But something more basic is going on...
No one wants to be on a diet during the fall.
It's un-American to watch the World Series while nibbling on carrots and celery. That's a time for pizza and hot wings.
And when the kids come home from trick-or-treating, it's every good parent's obligation to sample a few of the goodies to make sure they're safe for consumption.
Don't even get me started on the importance of Thanksgiving food. I already covered that topic while writing about the
diet stocks
last year.
NutriSystem's troubles have very little to do with the competitive pressures of a new diet pill... and everything to do with seasonality. Indeed, the stock disappointed investors during the third quarter last year as well.
Don't be too surprised to see a similar disappointment out of Weight Watcher's (WTW) when it announces earnings in a few weeks.
But bargain hunters should be ready to pounce. Any weakness in the diet stocks is likely to be temporary.
After all, we're just a couple months away from making our New Year's resolutions. And before we know it, it'll be time to shed the sweaters and squeeze back into the swimsuits.
Best regards and good trading,
Jeff Clark