Last month, I spent a week on the road in search of great American real estate selling for reasonable prices...
I found it. See for yourself.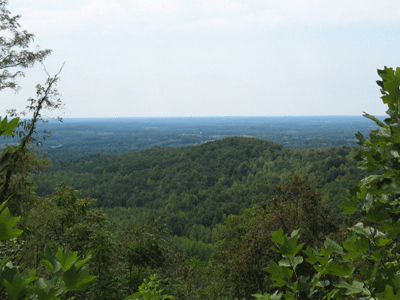 The above photo is taken from a two-acre lot in Forest City, North Carolina – about one hour outside of Asheville. As if this view weren't spectacular enough, the bottom of this natural valley is going to be converted to a 35-acre lake within the next two years.
The developers, a father and son team, Leonard and Jon Hollifield, are awaiting the necessary permit to move ahead with the lake project. As soon as they receive their permit – around the end of 2007 – they'll begin pre-selling lake lots for $150,000-$175,000.
This is pretty darn cheap given the area. Within 25 minutes of Jon and Leonard's lake-to-be is another man-made lake, Lake James. Lots there currently sell for anywhere from $350,000 up into the millions. Within 45 minutes is Lake Lure, which National Geographic calls one of the most beautiful man-made lakes in the world. Lots there start at $1 million.
Both of these other areas are open the public. That is, residents have to put up with day-trippers' jet-skis, nature groups, and the like. In contrast, Jon and Leonard's lake will only be open to residents.
I've said many times that U.S. real estate was not in a nationwide bubble. Investors can find tons of value and great land at cheap prices throughout this country. And as money flees from the markets that have reached bubble proportions, it's going to flow into other, cheaper markets.
Why would someone buy a lot at Lake Lure for $1 million when they can pay $200,000 for a quieter, more private setting?
It's simple. They won't.
Jon and Leonard's lots are so cheap because they're small-time developers. "I can't sleep at night if I've got any debt," Leonard chuckles. "Jon keeps saying we're selling these too low, but it's not like we've got millions and millions in cash lying around to put into development costs. So we're looking to sell quick, rather than high."
Once the lots are officially on sale, they'll be going for $200,000-$250,000 depending on the view. Pre-sale buyers could potentially flip their properties and make a quick 30%-40% gain.
However, if you're looking for a getaway home, this is the best thing I've seen so far. But you should only consider a market like this if you're looking for something rural. Forest City is 10 miles away. You can go there for any of your basic needs: groceries, hardware, etc. And then you've got Asheville, Charlotte, and Greenville all within an hour's drive or so.
As the correction plays out in the overblown markets of California, South Florida, and New England, the hills of North Carolina are a cheap place to watch it without a care.
Good trading,
Graham