WOW, what a bounce!
Tuesday's rally was just what the bulls needed. The Dow was up more than 300 points. The S&P gained 40 points. And the Nasdaq Composite led the charge by tacking on 90 points, or roughly 3.5%.
It was the best day for stocks since the Fed rescued the markets back on September 19. And the folks over at CNBC were about as giddy as drunken trophy wives at a Tiffany half-off sale.
I was pretty pleased with the rally too. But before we go celebrating the arrival of the Santa Claus rally – the seasonally bullish move that almost always happens this time of year – there are two things to take note of...
First off, Tuesday's rally merely brought the major market averages back to where they closed last Thursday. Yes, it was a good move – but it's not even close to recovering the bulk of the damage done so far this month.
More importantly, it's not the strength of the bounce that matters... it's the weakness of the next decline.
As you can see from the following chart, the S&P 500 is still pounding out a series of lower highs and lower lows…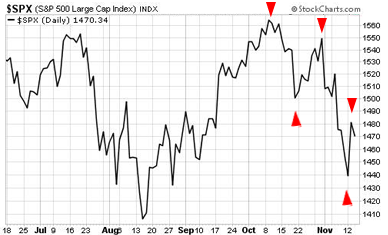 This is a bearish pattern and can only turn bullish once the index pulls back and makes a higher low.
So, even though Tuesday's bounce was a nice gift for the bulls, the Grinch is still in charge of Wall Street. And he can steal the presents – just as he did on Wednesday, when the market erased a nice 50-point gap at the opening and closed down almost 100 points.
If you want to know when Santa is ready to hop in his sleigh and head out to Manhattan, then keep an eye on the 1,440 level of the S&P 500. If the next decline takes the index below that level, then the year-end rally will be late this year.
On the other hand, if 1,440 holds, then get out your stockings and hang them on the chimney, 'cause Santa Claus is coming to town.
Best regards and good trading,
Jeff Clark