In light of the current market's madness, it's time to revisit our old friend
Iceberg Slim
.
Iceberg Slim reached infamy as one of Chicago's most successful pimps. By the time he retired at the age of 42, he'd amassed a fortune. According to his publisher, he went on to sell more than 6 million books. He later attributed his success to maintaining his cool in any and all situations. "The best pimps," he wrote, "keep a steel lid on their emotions and I was one of the iciest."
It's advice we could all do well to heed right now…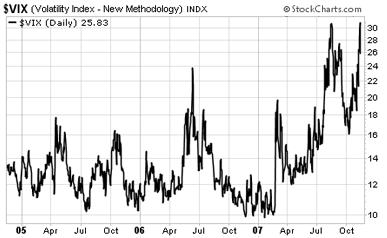 There's been a fundamental shift in investor sentiment since this summer. This time last year, the market was unstoppable, rallying day after day. Bad news only resulted in a slight hiccup – if it did anything at all.
Today, however, investors have little confidence in the market. In fact, they're more worried than they've been in more than three years. Have a look at the Chicago Board of Options Volatility Index (VIX): the bellwether for investor confidence.
When the VIX spikes, investors are nervous about the market's future, and they bid up the price of "insurance" in the form of options. When the VIX plummets, investors are calm. As you can see from the chart above, investors are not "keeping a steel lid on their emotions." Instead, they're spooked, big time.
Corporate insiders, on the other hand, are taking a page right out of Iceberg Slim's book, and calmly buying in the face of these corrections. The sell-to-buy ratio for the last week was a bullish 1:14 – anything below 1:20 is bull territory. In terms of actual insider buyers and sellers, there are 1.5 sellers for every one buyer: again, very bullish.
These guys aren't traders, nor are they looking to make a quick buck.
Because of the short-swing profit rule, insiders are required to hold on to the shares they purchase for a minimum of six months. So the guys who are buying right now aren't short-term traders. They're seeing value no one else is, and they're looking to hold their positions well into next year.
So while everyone else panics, the guys who run these companies are slowly loading up on the two most beaten up sectors: finance and consumer discretionary. Does this mean we'll see a big year-end rally in these sectors? Not necessarily. But insiders are definitely betting that their businesses will do well.
Here is a short list of companies with insider support:
| | | | |
| --- | --- | --- | --- |
| Company | Symbol | Sector | Insider Buying |
| World Acceptance | WRLD | Credit Services | $10.1 million |
| Western Alliance Bancorp | WAL | Regional Bank | $4.2 million |
| American Eagle Outfitters | AEO | Clothing Retail | $24.8 million |
| Peb Boys | PBY | Auto Parts | $10.6 million |
What happens with the broader market is anyone's guess... but if you're looking to buy shares when most folks are panicking, this list is a good place to start.
Good trading,
Graham