Combine a healthy dose of hype with an impending news-driven deadline and you have a nearly irresistible short-selling setup.
Let me explain...
Alibaba, China's second-most popular Internet search engine behind Baidu (
BIDU
), is going public today on the Hong Kong stock exchange. The IPO is priced at $13.50, but shares are expected to hit the tape at almost twice that price.
You and I and just about everyone else in Western civilization have scant chance of getting Alibaba shares at the IPO price. But starting last month, news spread fast of a "backdoor" entrance into the Alibaba IPO through shares of Yahoo (
YHOO
).
You see, Yahoo owns roughly 40% of Alibaba. So traders can get in on this IPO simply by buying shares of the U.S.-based search giant. And by the look of things, that's exactly what they've been doing over the past month and a half...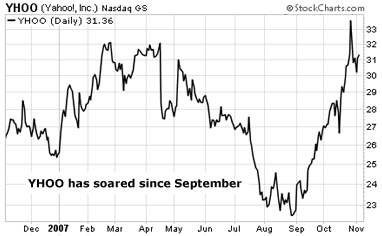 YHOO is up almost 40% in the past six weeks as traders purchased the shares ahead of the widely anticipated Alibaba IPO. Now, this is an attractive short-sale candidate because those same traders will be looking to exit those positions and book their profits as soon as the Alibaba IPO gets factored into Yahoo's stock price later today.
That's an awful lot of pent-up selling pressure that's going to hit Yahoo around mid-morning. And if you want to make money, then you need to be positioned on the short side of this trade ahead of that selling pressure.
Yahoo is quite likely to pop a bit higher first thing as the hype hits a climax. But sellers should take over shortly thereafter, and we should see some pretty strong downside action when traders head for the exits.
Understand that this isn't a judgment call about the value of YHOO shares. I can't tell you whether they're overpriced or underpriced at current levels. What I do know, however, is there is a large supply of stock that's going up for sale later today, and the demand is unlikely to be there for it. So the odds favor a lower close.
The ideal situation would be for YHOO to open higher – maybe as high as $33 or $34 per share – as the Alibaba hype peaks. That's a good, low-risk price at which to set off a short sale. Then you can look to cover the position and buy back the shares as it drifts back down around $30.
Obviously, there's no guarantee that this trade conforms to my script. In fact, it's possible that YHOO opens higher and then takes off to the races. So you don't want to be too aggressive here, and you want to keep a tight stop loss if the shares run too far above your short-sale price.
But this script played out pretty well for shares of PetroChina (
PTR
) yesterday when the stock tripled after it started trading on the Shanghai Stock Exchange and then lost 13% by the closing bell in New York. Yahoo may be set up for a similar fall.
Best regards and good trading,
Jeff Clark