"That's awesome, man. High-five..."
The two teenagers raised their hands above their heads and slapped them together. "I've never seen that happen before," one said as he turned and pointed at the gas pump.
The pump had clicked off right at $100. Not one penny above or below, but exactly $100.00.
The moment set off a celebration. The kids high-fived each other, shuffled their feet, did a little cabbage-patch move, and then high-fived again.
It was the dance of the $100 fill-up.
Sadly, I remember the good old days when the gas pump clicked off at $50. And by the looks of the following chart, it probably won't be too long before we look back fondly on the days when we could fill up the tank for just $100...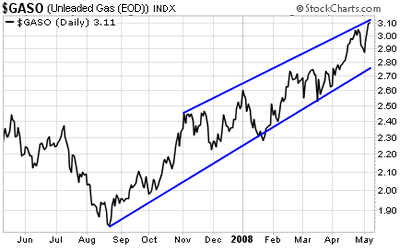 This chart of unleaded gasoline is a classic example of a rising channel formation. It's a bullish chart with a series of higher highs and higher lows, and it shows no signs of weakening. In fact, the advance looks like it's ready to accelerate.
That's bad news for drivers, as gas prices are likely to run even higher over the coming weeks and months. But bad news for drivers could be good news for refining companies.
Stocks like Valero (VLO), Frontier (FTO), and Sunoco (SUN) have been under pressure lately as the cost of crude oil has been increasing faster than the price of gasoline. Profit margins are compressed, and many refineries have chosen to cut back on production rather than produce gasoline at a loss.
Now, however, as the price of gasoline looks ready to accelerate higher, refiners just might see their operating margins expand – especially if the price of oil levels off or even falls a bit (as I expect it will, but that's a subject for another essay).
So, unless you're a teenager using Mom's credit card to fill up the tank, you won't have much of a reason to celebrate. But if you pick up a few shares of the refining companies at today's depressed prices, you too might dance a little when the pump clicks off at $100.
Best regards and good trading,
Jeff Clark