We're getting mixed signals.
Corporate insiders continue to bet heavily on a market rally in the fourth quarter. Last week, the sell-to-buy ratio was firmly in bullish territory at 13 to 1. (In these times of massive options grants, anything below 20 for the ratio is bullish.) By headcount, insider sellers only outnumber buyers by 2 to 1 – again, bullish.
Besides this, insiders have been buying finance stocks for the last several months. The finance sector typically leads any major market moves. So seeing insiders betting on a finance rally is a strong sign of optimism.
Yet, finance stocks are not rallying.
The big banks have all posted losses or earnings misses in the last month. The two largest – Citigroup and Bank of America – both saw third-quarter profits fall by more than $1 billion. On Tuesday, Citigroup led the plunge with a 7% drop on credit concerns.
More worrisome is the fact that Merrill Lynch's share price has broken down. My colleague Jeff Clark often refers to Merrill as a "canary in the coal mine" for finance stocks. Merrill posted a $2.2 billion loss for the third quarter: the biggest in its history.
Merrill CEO Stan O'Neal stepped down last week. And Merrill's stock is dropping like a stone. In fact, the only time the stock rallied was when rumors started that O'Neal might get canned.
The chart below, of the Financial iShares, sums up the finance misery: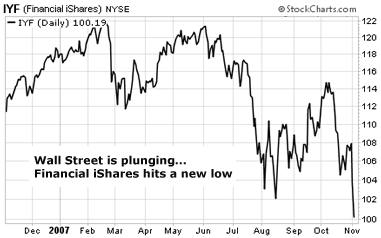 Given this horrible price action, I'm on the sidelines right now. Historical market indicators (insiders and financials) are not lining up. Until they do, establishing new positions is too much of a crapshoot for my liking.

However, two stocks have caught my attention and could warrant capital should the market launch a sustained rally:
Company

Symbol

Insider Buying
Last Three Months

ValueVision Media

VVTV

$1.9 million

First Horizon National

FHN

$3.9 million
VVTV
runs the Home Shopping Network. It's trading at seven times earnings and has no long-term debt. The company's insiders are clearly betting on consumers getting back to buying junk from TV soon.
FHN
is the holding company for the financial-services firm First Tennessee Bank. Like all banks, it's been hammered this year, and it now yields 7%.
At this point, I wouldn't buy either company. But if the market launches a sustained rally, these "insider approved" stocks could be worth further research.
Good trading,
Graham