"That's it," my wife exclaimed as she came home from Christmas shopping last night. "Tomorrow, I'm calling NutriSystem."
Two months ago
, we saw NutriSystem (
NTRI
) stock fall off cliff after a lackluster earnings report... I thought the drop had more to do with diet-stock seasonality – nobody wants to diet during the holidays. But now that we're almost through the last of the cheese logs, I'm betting my wife isn't the only one making that call. I just hoped it wouldn't happen so soon...
"But dear," I pleaded, dropping the half-eaten pizza roll from my hand and wiping the nacho cheese sauce off my chin, "it's the holidays. I'll go back to eating well after New Year's Day – or after the Super Bowl at the latest."
"Not you, doofus," she replied. "Me. I'm going on NutriSystem. I just ran in to Rebecca at Nordstrom's and she looks terrific."
Rebecca is an old high-school friend my wife hadn't seen for years until she ran across her at Starbucks this past summer. While chatting about whatever it is that long-lost friends chat about, my wife reached over and ever-so-gently patted Rebecca on her tummy and asked, "How far along are you?"
Rebecca wasn't pregnant.
Four months, 360 well-balanced portion-controlled meals, and 240 nutritious snacks later, Rebecca is a changed person. And her success story has inspired my wife to call NutriSystem. Now, I'm betting it's time to buy NutriSystem stock...
At just over $27 per share, NTRI trades at nine times earnings. It has no debt and it has 15% of its market capitalization in cash on its balance sheet. And the chart looks quite good...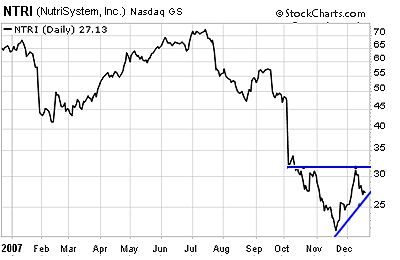 This is a textbook illustration of an ascending-triangle pattern. Most of the time, these patterns break out to the upside. In this case, if NTRI can rally above $31 or so, then the pattern projects a move to as high as $37.
That would be a pretty healthy gain for a $27 stock.
Of course, NTRI isn't completely without risk. Distribution problems and competitive pressures ruined NTRI's earnings report last quarter. If the company hasn't come to terms with those problems by the time the next earnings report comes around in early February, then this pattern may break to the downside, and we could be looking at a $22 share price.
But I think the odds favor a move to the upside.
This is the time of year that everybody starts thinking about diets. NTRI is flooding the airwaves with commercials featuring former pro-ball players and reality TV stars testifying to the success of the program. People like Rebecca are walking around as real-life testimonials. And my wife is making the call.
Heck, I might even join her on her weight loss campaign – just as soon as I finish off the last of the pizza rolls and cheese logs.
Happy Holidays,
Jeff Clark