The S&P 500 is going through tough times...
The world's benchmark stock index sits at essentially the same level as six months ago, but with much higher volatility than investors are used to seeing. However, there's one trading strategy that's steadily climbing in value, week after week... the Max Value Sector strategy.
In my Quant Trader advisory, we use Max Value to find the cheapest sectors that are in confirmed uptrends. The strategy produces back-tested gains of about 60% a year (not counting taxes and fees). Although there's plenty of fancy math proving how it works, we're simply buying safe, cheap stocks that have positive momentum.
A couple months back, Max Value said to buy the beverage sector. Now, there's no great beverage ETF (yet), so we bought shares in the world's biggest and most recognized beverage company, Coca-Cola (
KO
).
That trade played out pretty well for us... While the S&P churned sideways during October and November, our Coke shares steadily climbed. In fact, we saw gains of 12% with less volatility than the broad market. And Coca-Cola continues to serve as a safe haven – it's hitting new 52-week highs on a daily basis.
However, the beverage sector is no longer one of the market's cheapest sectors right now. This month, Max Value indicates that the cheapest sector with the best trend is non-life insurance.
This sector is the domain of Berkshire Hathaway (
BRK
), American International Group (
AIG
), and Travelers (
TRV
)... It doesn't include companies that issue life insurance, because their policies are generally very long-term. In contrast, non-life insurance generally covers shorter periods, such as one year.
More importantly for us, the sector is incredibly cheap right now.
As you can see from the chart below, DataStream's Non-Life Insurance Index price-to-earnings ratio is near lows unseen since the early 1980s. The last time the index became this cheap, it rallied 30.4% in six months.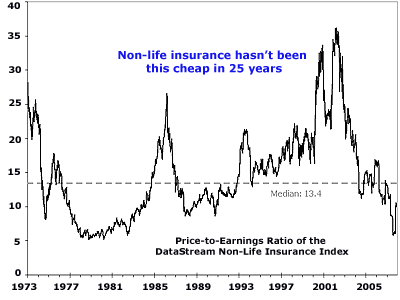 Part of the correction this sector has seen since 2003 is simply a natural fall from the astronomical valuations the companies reached during the dot-com bubble. Since then, their prices have stagnated while their earnings have continued to increase.
Another reason the sector is so cheap probably has to do with the public's fear of global warming. If global warming leads to an increase in natural disasters – like hurricanes – then insurance claims could climb dramatically... hurting these companies' profits.
However, investor hysteria has gone way too far. I believe the threat of global warming is overblown. Consequently, we have a unique opportunity to buy into this sector at a steep discount.
Unfortunately, like the beverage sector, no non-life insurance ETF currently trades on the market... But there are several high-quality non-life insurance companies you can park money in that will likely offer the same safety and growth as Coca-Cola has over the past few months. If you're a stock picker, it doesn't get any cheaper right now...
Good trading,
Ian Davis