You could almost hear the champagne corks popping...
After declining for five consecutive months, the S&P 500 clawed its way to a 4.7% gain in April. Yeah! Yippee! Hoo-rah!
But the celebrating may be a bit premature. As you can see from the following chart, all the market has done is rally back up to its 20-month exponential moving average (EMA)...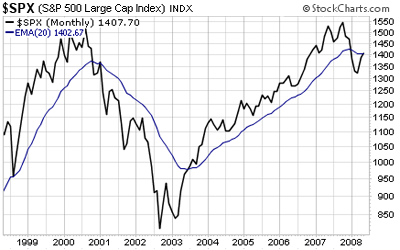 The 20-month EMA is the proverbial line in the sand between bull and bear markets. If the S&P 500 is trading above the line, then the bull is in charge and we should see higher stock prices over time. On the other hand, if the S&P drops below the line, then the bear takes over and investors should tread cautiously.
Back on April 1, the last time
I showed you this chart
, the S&P 500 was at 1,320. Tired from the water torture of five down months, investors had given up all hope. And the bear was clearly out of the cave.
But stock prices had declined so far so fast that a bounce back up to the exponential moving average line was inevitable. We saw an example of that type of bounce when the previous bear market took over back in late 2000. And we saw it again last month.
The question now, of course, is... where do we go from here?
There's enough momentum behind stock prices and enough skepticism among the analyst community (which is a good contrary indicator) to send stock prices even higher over the short term. Most of the technical indicators I follow aren't yet stretched far enough to the upside to cause much concern. So my guess is we'll see the S&P 500 power higher – maybe as high as 1,425 to 1,430 – over the next week or two.
Ultimately, though, the market is headed lower. Perhaps much lower.
Breaking below the 20-month EMA is an ominous development. A bear attack doesn't end after just one swipe of the claw. And I suspect a second swipe is coming soon.
If the S&P 500 follows the pattern of the previous bear market, then the next leg down could be quite painful. It probably makes sense to use the strength of the last month, and any strength we see over the next couple of weeks, to lighten up on long positions... and maybe add a few short sales.
Best regards and good trading,
Jeff Clark