The latest news coming from local electricity companies is a lot like a kick in the teeth for most people... after they've been knocked to the ground.
Last week the Associated Press reported, "Utilities nationwide are raising rates and are likely to push for even more dramatic increases in electric rates in the coming months."
Americans are already strapped for cash due to rising gas and food prices and a sinking real estate market. So why's electricity joining the scrum?
Well, a large part of the blame lies with steel... As I wrote last week,
steel prices worldwide are skyrocketing
. This week, we're going to look at one of the ramifications of soaring steel prices... soaring coal prices.
Coking coal is the type of coal used in steelmaking. Demand from steelmakers is driving prices higher. In fact, many steelmakers, including the world's second-largest producer (Nippon Steel), recently agreed to pay triple what they previously paid for coking coal.

Take a look at the following chart of coal prices since 1996...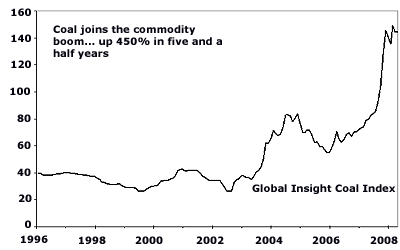 The Global Insight coal index doesn't contain any U.S. coal – it's 60% South African, 30% Colombian, and 10% Australian. But the market for coal, like oil, is global. When the price of foreign coal spikes, the U.S. exports more of its coal... resulting in higher U.S. prices.
So the steel rally has swept coal along with it. But coal prices have not yet gone parabolic like steel prices. Does that mean coal is a good buy for people who are bullish on steel?
Trend followers might find coal attractive. But there's no easy way to bet on the price of coal except through coal stocks... And coal stocks are expensive right now.
Take a look at the following chart...

Coal Stocks are Expensive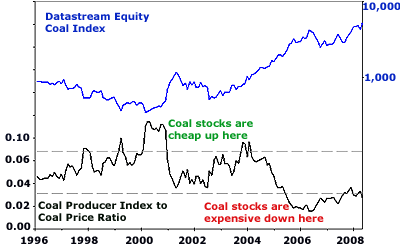 Investors are excited about the coal industry and have bid up the price of coal producers in relation to the price of coal. And any falter in the growth rate of coal prices could lead to a sharp drop in these stocks. So here's how to play the coal boom...
Wait for just such a pullback before buying your favorite coal stock. A few of the big names are Peabody (BTU), Consol (CNX), Massey (MEE), and Arch (ACI). Or you can buy a basket of coal producers with the Market Vectors Coal ETF (KOL).
Coal produces about half of all the electricity generated in the U.S. With coal prices soaring, it's likely you'll feel the effects of soaring coal prices in your electricity bill... But if you buy coal producers at the right prices, you should see some profit, too.
Good investing,
Ian Davis