The canary passed out last week.
Shares of Merrill Lynch (MER), Wall Street's version of the
canary in the coal mine
, broke down from their bearish rising-wedge pattern, and the market tumbled lower along with them.
Here's an updated version of the chart I shared with you back on
May 31
...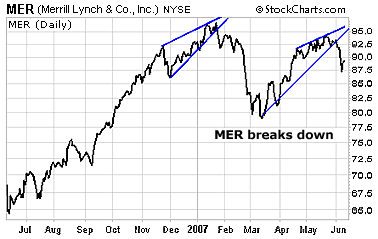 You can see where the canary fell off its perch. And you can see its meager attempt to bounce back up.
Be careful though. If this pattern unfolds as it did earlier this year, then the bird is likely to flip back over and suffer a more serious decline. That's bad news for the stock market...
But the good news is that the canary is probably safe until next week.
You see, this Friday is June's options expiration day. All June calls and puts stop trading forever at 4:00 EST this coming Friday. That doesn't mean much to most individual investors. But to an options market maker, expiration Friday is like Christmas.
Options market makers often take the opposite side of our trades. If we're buying puts and calls, then the market makers are selling them to us. We lose money if the options expire worthless, and the market makers make money.
So the market makers have a vested interest in seeing the largest number of options expire worthless. And, if a stock is close to a strike price as we head into options expiration day, the market makers will do whatever they can to get the stock to close on the strike.
Merrill Lynch, for example, has almost 14,000 June option contracts at the $90 strike price. If MER shares close at $90 on Friday afternoon, then all of those options expire worthless. That would be a pretty good payday for the options market makers.
With MER currently trading at $89, there's plenty of motivation for market makers to bid the stock up a bit by Friday. And, if they can keep a bid under MER, then there will likely be a bid beneath the market as well.
Of course, the market makers aren't going to jump in front of a moving train to force a handful of options to expire worthless. So if the momentum really starts cooking to the downside, then all bets are off.
Right now, though, it looks like MER at $90 by Friday afternoon is a pretty fair bet.
Best regards and good trading,
Jeff Clark