As we covered on
Monday
, American Capital Strategies (ACAS) is a publicly traded leveraged buyout (LBO) fund with ridiculous returns…
It went public in 1997 and has shown Warren Buffett-sized returns to shareholders: 23% a year since its IPO… along with more than $24 per share in dividends.
ACAS goes to the public for its capital. Because of this, the company regularly offers shares on public markets. Altogether, ACAS has made 28 such offerings since its IPO. And whenever it offers stock on the open market, ACAS's share price dips as shareholders react to the dilution.
And that's when I trade options.
You see, I know ACAS is an extremely profitable business with multiple lines of income – the company lends money to troubled companies, buys out companies, and takes companies public. So it won't be long before the company's stock bounces back from a public offering. Almost more importantly, I've also got ACAS insiders to clue me in.
In April 2006, ACAS offered 12 million shares at $35.31 per share. ACAS shares dipped down soon afterward as investors reacted to the dilution.
ACAS insiders took advantage of the dip to buy more than $4.5 million worth of the company's stock in May 2006. If you'd followed them, you would have made 45% in six months' time.
If you'd bought ACAS options however, you would have made well over 200%.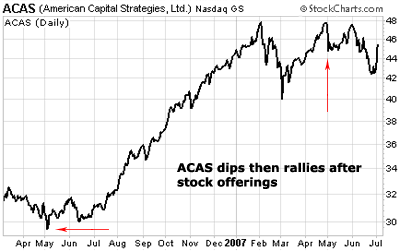 A year later, ACAS once again turned to the public markets to raise capital. This time, it was offering 9 million shares at $44.71. Once again, ACAS shares dipped as investors reacted to the share dilution.
I knew ACAS was a bargain since the company's insiders had recently purchased $5.7 million worth of ACAS stock. So when ACAS shares dipped following its share dilution, I recommended that subscribers of Inside Strategist purchase both ACAS shares and the ACAS May 45 calls.
ACAS stock rose 11% in a month and a half. But we made 61% on the calls in one month.
The next time you see a company bringing shares to the open market, don't sell right away. Check out what the insiders are doing. If you see them buying, chances are, you'll get a quick rebound. And for the traders among you, a great way to play it is to buy calls and pocket some big gains very quickly.
Good trading,
Graham