Two weeks ago, the mood among gold stock investors was lower than the sunken remains of the Titanic.
Today, those same investors are like Sherpas dancing on the tip of Mount Everest.
What is the reason for this remarkable transformation? The chart says it all...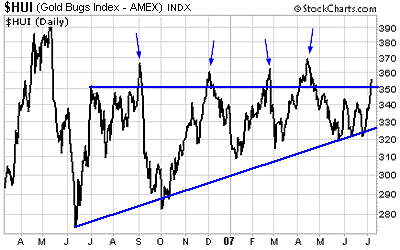 If this chart looks familiar to you, well, it should. This is an updated version of the Gold Bugs Index (HUI) chart I showed you
two weeks ago
. Back then, I argued that even though the gold sector looked to be on the verge of a technical breakdown, it was time to buy gold stocks.
The emotional mood swings of gold stock investors create a lot of volatility in this sector. And that volatility creates a lot of false moves. So, just as we saw several false breakout attempts over the past year, it looks like we saw a false breakdown two weeks ago.
Now, once again, gold stocks are back up near the top of their yearlong trading range. The chart looks like it's ready to break out to the upside. Gold bugs are giddy with enthusiasm, and are dreaming of the riches to come as the next big leg of the gold bull market gets started.
So it seems to me like a pretty good time to sell.
I'm not talking about selling your long-term core gold positions. After all, it is a gold bull market. But, if you picked up a few shares when it looked like the bottom was dropping out two weeks ago, then you're sitting on some nice trading profits today.
And, when you're trading a sector that's been confined to a well-defined trading range for the past 14 months, then you buy at support and sell at resistance.
Even if this current "breakout" move does kick-start gold's next big bull move (I don't think it will), then the stocks should come back down and test the breakout level before launching higher. So traders will have another opportunity to get in.
Right now, though, it looks more like an opportunity to get out...
Best regards and good trading,
Jeff Clark