I don't buy "loved" stocks.
A stock is "loved" when nearly every institutional analyst covering the company has a buy rating. It's a stock your friends talk about around the office water cooler. Loved stocks usually trade near their 52-week highs.
I tend to avoid these stocks because expectations are sky-high. They're priced for perfection. The smallest bit of bad news – lighter margins or weak earnings guidance – can result in a one-day collapse in the stock.
But... there are exceptions.
Since my recommendation, shares are up 25%. That's about 18% higher than the S&P 500 in the same timeframe.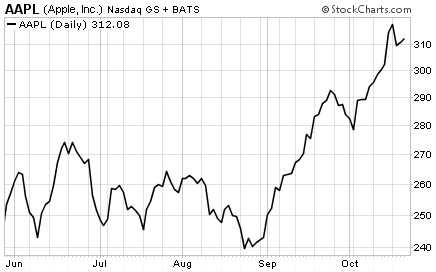 I made an exception with Apple because the stock was cheap compared to most large-cap tech companies. Sure, at 25 times earnings, the stock's price-to-earnings ratio was higher than its peers. But if you took into account more than 30% earnings growth, it was actually cheaper than Microsoft, IBM, and Intel. Let me explain...
"Price to earnings growth" (PEG) takes into account a company's valuation and growth potential over the next 12 months. If you divide a stock's P/E by its projected growth, for the "PEG ratio," you're adding growth into your valuation. The lower the PEG ratio, the better value to the investor, since you would be paying less for each unit of earnings growth.
For example, let's say XYZ stock was trading at eight times earnings. Its earnings were growing 5% for the year. Do the math: That's eight dividend by five. The company had a PEG ratio of 1.6.
In Apple's case, the stock was trading at 25 times earnings back in May. The company's earnings were growing 30%. Divide 25 by 30, and Apple was trading for a PEG ratio of 0.8.
Based on earnings and growth potential, Apple was cheaper than our hypothetical XYZ stock, even though its P/E was much higher.
Today, Apple is no longer a bargain. After a 60-point run higher in the stock, its PEG ratio is now higher than most of its peers.
P/E

(2011 E)*

Projected Earnings Growth*

PEG Ratio

Apple (AAPL)

17x

19.4%

1.14

IBM (IBM)

11x

12.1%

1.10

Microsoft (MSFT)

9x

9.5%

1.06

Intel (INTC)

10x

7.9%

0.79

*Data provided by Capital IQ
Apple bulls will highlight the company's huge potential in emerging markets, like China and India. Also, Apple will begin selling its new iPhone through Verizon in January. That opens up a potential market of 100 million U.S. customers.
But I've been reading about these catalysts for six months. These positives are largely priced into the stock. Also, more analysts than ever are bullish on Apple. According to Thomson Reuters, 49 out of 53 analysts covering Apple rate the company a buy. Only four out of 53 analysts could upgrade the stock... and 49 could downgrade it.
Apple is America's tech darling. Its products remain in huge demand in the U.S. and emerging markets. But after a 60 point run-up in the stock in five months, this stock is much too loved.
I suggest taking profits at current levels.
Good investing,
Frank