Last month, I watched Mark Cook make $1 million in one day.
Mark is an interesting guy... and an incredible trader. He's a world away from Wall Street. In fact, he doesn't even set foot on the Street. He manages his own trading account and doesn't manage money for other people. He prefers overalls to pinstriped suites.
Last month, I spent four days at Mark's Ohio home with a few other traders from around the world. We were all there to get a little advice from one of the greatest trading minds in America.
Mark became famous after his interview in the book
Stock Market Wizards
– the latest in a trilogy of interviews with America's top traders. Besides winning numerous investing championships, Mark's annual returns have ranged between 30% and 1,422% since the 1980s.
I couldn't wait to hear what Mark had to say about the market today (especially after seeing him make a huge amount of money in a quick futures trade). Mark is very bullish right now...
"I called my mother and said, 'Mom, get the money out of the mattress. We're
buying stocks
.'"
Mark's proprietary indicator – the Cook Cumulative Tick (CCT) – is his pet for calling market tops and bottoms. He never reveals the specifics of his indicator, but it's an outstanding tool that shows whether the market is overbought or oversold. Right now, Mark says, "it's the most oversold in its history."
The last time his CCT came close to current levels was the market bottom in 2003. "Anytime my CCT gets this oversold, I will buy... evvvery time." With the S&P 500 down 49% this year, stocks are badly oversold. According to Mark, we're setting up for the "biggest buying opportunity of your lifetime."
I agree. I think we're close to at least a tradable short-term bottom... and possibly a long-term bottom. As I mentioned earlier this month, the
insider-buying ratio (IBR)
– my own ratio of insider buying and selling – is also at an extreme. It hit 62% last week... I've never seen it this high. Insiders are bullish.
But before putting any more chips on the table, I want to see the S&P show a little strength... I want to see the market say, "The madness is over." For my money, this requires a rally above the 850 level of the S&P 500.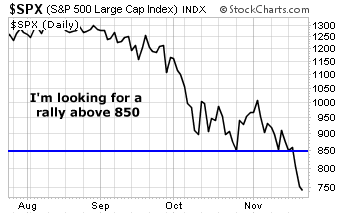 As you can see, the market bobbed around 850 during the October lows. If the S&P makes it back up to this level, it's a sign the selling pressure has been exhausted.
Bottom line: When someone as smart as Mark Cook is getting bullish... and when corporate insiders are major buyers of their own shares, it's time to start considering doing the same.
Good trading,
Brian Heyliger