There's a secret most newsletter publishers don't want you to know...
And if you know this secret, it means all the difference between getting rich in stocks and losing it all. The secret?
Most investment newsletters are wrong most of the time. They're bullish when stocks are expensive and things can't get any better. They're bearish when stocks are cheap and things can't get any worse.
In other words, professional investment analysts are prey to the same panic and mania as their readers. In most cases, you'd be better off putting your savings in an index fund than following (and paying for) their advice.
Because most newsletter editors are wrong, it's handy to know their collective opinion... It's a great contrary indicator. That's why I pay attention to Investors Intelligence. It's a service that tracks the general sentiment of the investment advisory business with the "II Bull Ratio."
If advisors are generally bullish, the II Bull Ratio will be high. If advisors are bearish, it'll fall to new lows. I probably shouldn't be telling you this... but newsletter writers as a whole are so backward that when the ratio gets above 67%, when most newsletters are bullish, it's time to sell the market. When it gets below 50%, and advisors are depressed, it's time to buy.
The advisory crowd was super bearish just before the big up-moves in 1995 and 2002. And they were super bullish early this year... just before a spectacular market crash. So of course, we want to be in the opposite camp.
Right now, the II Bull Ratio is down to about 35%: the indicator's lowest level since 1989. In a normal market environment, the II Bull Ratio rides between 55% and 65%. We're not seeing that today.
With each new update to the ratio, more and more newsletters are in the bear camp, and the II Bull Ratio treads lower with each one. Take a look...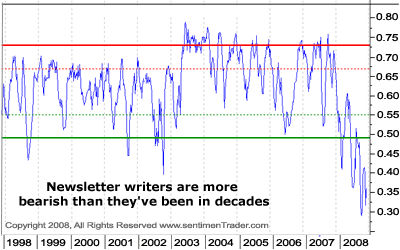 As you can see, newsletter writers as a whole are so depressed, they're about to hang up their word processors and call it a day. That's a huge buy signal.
The II Bull Ratio is a guideline, not a trading system. But a 20-year low is an extreme worth betting on... And as I've been telling you,
corporate insiders
– who have a much better record of predicting market moves – are the most bullish they've been in decades.
Good investing,
Brian