Most investors cringe at the word "biotech."
Too many carry scars from the massive post-2000 tech bust. Others shy away from the volatility following trial results and FDA decisions. But times have changed...
In a year marred by violent market action, biotech has emerged as a new safe haven. Have a look at a year-to-date chart comparing the iShares Nasdaq Biotechnology Fund (IBB) to the S&P 500: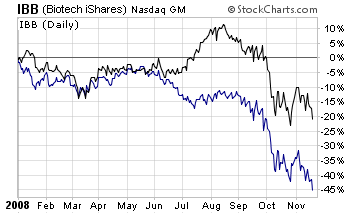 IBB is down roughly 15% year to date. The S&P is down more than 40%. This biotech fund has beaten 99% of all stock exchange traded funds (ETFs) for the year. (The only funds outpacing it are bond funds and inverse funds designed to profit on a downturn.)
As you can see, the outperformance started in July. A string of billion-dollar mergers – buyouts that include industry giant Genentech and Carl Icahn's ImClone – attracted retail and institutional money. Biotech became the must-own sector. Since then, IBB has further extended its lead over the S&P 500 even.
Give credit to biotech's biggest names. Amgen, Celgene, Gilead, and Genzyme – part of the handful of profitable biotechs know as "Big Biotech" – account for about 40% of the Nasdaq biotech index. These companies sell drugs for cancer, HIV, and other life-threatening diseases. They're profitable, growing sales at a rapid pace, and generating tons of cash. They also don't have to worry about patent expirations anytime soon.
Most importantly, sales from Big Biotech are immune to hard economic times. Recessions, even a depression, make no difference to sales growth. Patients need drugs from these companies or they will die. You can skip an expensive cholesterol-lowering drug in the short term, where serious heart problems may or may not surface years down the road. But stopping cancer treatment can kill a patient in weeks to months.
Institutional investors poured roughly $2 billion into the sector in the weeks before the October bloodbath. I don't expect the money to stop flowing anytime soon as investors continue to scramble for safety.
The easiest way to play this new "recession-proof" industry is through the two main biotech ETFs – iShares Nasdaq Biotechnology (IBB) or the SPDR S&P Biotech (XBI).
IBB follows the Nasdaq biotech index and is heavy on Big Biotech. XBI offers a more balanced exposure to the entire industry, holding roughly two dozen small- and mid-cap names, like Vertex, Alkermes, and Cephalon.
Good investing,
George Huang