Is it 1998 or 2000?
If you want to know whether the current market action is the beginning of a bear market or just a tough correction, then pay attention to this chart...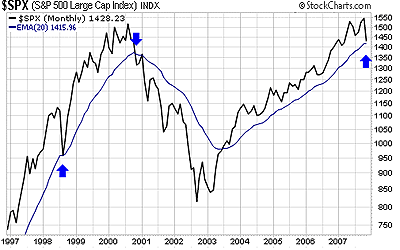 This chart plots the monthly action of the S&P 500 against its 20-month exponential moving average. The 20-month EMA simply charts the average price of a security over the past 20 months – giving more weight to the recent months than to the past. It's an excellent indicator for defining bull and bear markets.
As long as the S&P 500 is trading above the line, then the bulls are still running. Trade below it, however, and the bears take control.
As you can see, in 1998, the market corrected strongly, and the S&P tested support at the 20-month EMA. That was a terrific buying opportunity as the support held and the market continued higher.
In 2000, on the other hand, the S&P fell below the 20-month EMA and gave birth to a new bear market. That was about as good a sell signal as you'll ever see.
As we approach the end of November, the S&P 500 is sitting right on the line. It can break either way. So we're either looking at a terrific buying opportunity... or we're looking at the beginning of a bear market.
For my money, I'm buying right now. But I'll sell in a heartbeat if the S&P closes below 1,415 tomorrow.
You see, tomorrow is the end of the month – so we'll be adding one more data point to this chart. The 20-month EMA is at 1,415.96. If the S&P closes below that level, then we'll have a sell signal and it'll be time to jettison stocks and start playing the short side of the market.
If we can hold above that level, then the bull stays alive for at least one more month. And with the positive seasonal bias, the severe oversold condition of the indexes, and the overwhelming pessimism among investors, it could be one heck of a good December.
We'll know more tomorrow.
Best regards and good trading,
Jeff Clark