Time Magazine got it wrong.
Yesterday, the editors at Time Magazine declared President Elect Barack Obama their "Person of the Year" for 2008. Since 1927, Time has chosen a man, woman, or idea that "for better or worse" has most influenced events in the previous year.
There's no doubt Mr. Obama's election is historic. But his influence has yet to be felt. After all, he doesn't even take office until January.
My vote for Person of the Year goes to Ben Bernanke. The chairman of the Federal Reserve has destroyed the value of the dollar, penalized anyone who has ever saved a nickel, and created an environment in which thrift and frugality are punished while sloth and foolishness are rewarded.
Surely, no one has been more influential in 2008 than Uncle Ben.
Of course, he didn't act alone. Ben can thank his predecessor, and former Time Magazine Person of the Year, Alan Greenspan, for laying the foundation for the dollar's destruction. He can thank the late President Richard Nixon – also a Time Magazine Person of the Year – for taking the United States off the gold standard. And he can thank Franklin Delano Roosevelt – a two-time Person of the Year winner – for lighting the fuse of the deficit-spending time bomb that will no doubt explode during our lifetimes.
You can't say he didn't warn us. Uncle Ben promised to drop dollar bills from helicopters if that's what it would take to keep the party going. The choppers went airborne on Tuesday, when the Fed announced a new target range of between 0.00% and 0.25% for the Fed Funds rate.
Just look at what's happened since then...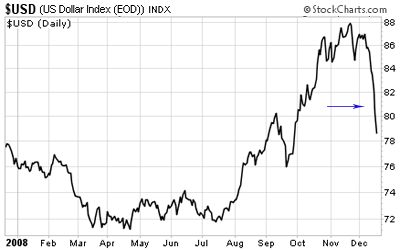 While the dollar has fallen, stocks, gold, silver, and other commodities have risen. So we've had the chance to make some good money off that move. And by the looks of it, the rally in "stuff" is likely to continue. Ben Bernanke is making sure investors view cash as trash and is motivating them to buy every other investment vehicle imaginable.
That's good for stocks and other "stuff" for the short term. But it's a disaster for our economy in the long term. So with all of his influence, Uncle Ben still wasn't able to capture Time Magazine's most coveted award.
Perhaps he'll get it next year.
Best regards and good trading,
Jeff Clark