Insiders have a clear message for investors today... Stocks are going up.
Insiders are more bullish on stocks than they've been in a decade. And they're twice as bullish as they were in 2003 – when the last bear market ended.
The Insider Buy Ratio (IBR) is like a window on the minds of insiders. It measures the ratio of bullish insiders to bearish. When insiders are bullish, it rises. When they're bearish, it falls. And as I showed you last week,
highs in the IBR
tend to hit just at the lows of the market.
Recently, the IBR for the whole market hit a 10-year high of 62%, signaling a bottom. Then on Thursday, we tested the S&P's October 10 low of 839.8. Heck, we blew threw it like a teenager through a stoplight. But within an hour, the S&P snapped back, closing the day at 911.3.
In other words, both insiders and the technical picture are pointing to at least an intermediate-term rally.
My favorite way to profit is by jumping into the insiders' favorite sectors. In the last month, three industries have seen their insiders get particularly bullish. Utilities – electrical companies – hit a huge IBR of 75%. Industrial goods – things like airplanes and construction equipment – had an IBR of 55%. And basic materials, which covers everything from metals to energy, saw a sector IBR of 60%.
Of these three, my favorite is basic materials. Take a look at the chart...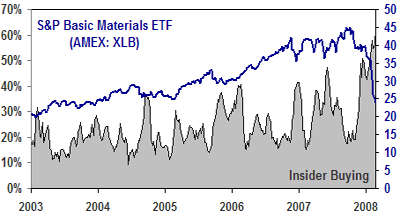 As you can see, each time the S&P Basic Materials ETF (XLB) has suffered a large decline since 2003, insiders have stepped up to the plate and bought... usually pushing the IBR over 30%. A more normal ratio is 15%.
One interesting point in this chart is the drastic decline in insider buying in late 2007. This was near the peak in basic material stocks. Now that basic materials have been clobbered, insiders are snapping up shares again.
The easiest way to follow basic materials insiders is with the same fund I use to track the sector: the S&P Basic Materials ETF (XLB). Some of the fund's largest holdings include aluminum giant Alcoa (AA), copper producer Freeport-McMoRan (FCX), and Monsanto (MON) – the world's largest seed company.
Buying the fund will earn you a decent 3.6% dividend yield. But it's actually trading at 50% premium to book value, and many of the companies in this sector are trading below book value. The market is pricing them as if they have no earnings potential. Those the ones most likely to bounce with the coming rally.
Good investing,
Brian