Q: Right now, quite a few land drillers are trading at a discount to book value. What are your thoughts on the drillers and their present "less than asset value" pricing? – M.H.
A: I think there are some real bargains in there. These companies lost 65% of their market value this year alone. The selloff coincided with the massive fall in oil, which is around 60%.
So where are they headed from here? Well, we can use the last big fall in
oil prices
to predict what could happen to the land drillers in the future.
We have to go back to 1998 – the year Monica Lewinsky brought down a president, Frank Sinatra died, Titanic became the largest grossing film of all time, and the price of oil fell to $10 and change in December.
Six out of the seven land drillers around back then bottomed in terms of price to book value (P/B) between December 1998 and February 1999. (The one exception was the newly public Pioneer Drilling, which bottomed in April.)
Drilling companies just couldn't make money with oil that low. So shares declined until they sold for less than the value of the iron rusting in their drill yards.
But let's say you bought those drillers in February 1999, just as they began to recover, and held them until oil hit $35 per barrel, just under two years later. You would have made 340% on average – about 6.4% compound growth every month.
Today, many of those same companies are trading close to the same price to book values as they were at the bottom in late 1998. Take a look...
| | | | |
| --- | --- | --- | --- |
| Company | Market Cap | 1998 P/B | Today P/B |
| Nabors Industries | $4.6 billion | 1.1 | 0.9 |
| Pioneer Drilling | $366 million | 1.2 | 0.8 |
| Patterson-UTI | $1.8 billion | 0.6 | 0.9 |
| Parker Drilling | $428 million | 0.5 | 0.8 |
| Unit Corp | $1.6 billion | 0.7 | 1.1 |
| Weatherford Int'l | $10.3 billion | 1.0 | 1.4 |
| Grey Wolf Drilling | $1.2 billion | 0.8 | 1.7 |
These companies weathered the last bear market in the oil industry. Of course, that's no guarantee they'll do it again. But they are getting nearly as cheap as they were back then. Nabors and Pioneer are even cheaper.
If you can buy these companies at or below their 1998 P/B bottom, you'll probably double your money over the next two years or so.
Q: Matt... Nickel has given up all of the gains it made in the last three years. Is there any hope at all for base metals? – D.E.
A: From 2003 to late in 2005, the price of nickel traded between $5 and $8 per pound. It was gathering momentum... In early 2006, it turned straight up. Starting May that year, nickel gained an average $1.32 per pound every month for a year.
In the previous 23 years, it averaged a gain of about 3¢ per month.
Since peaking around $24, nickel is down 80%. But that doesn't mean it's cheap. Take a look at this 25-year chart (which resembles the charts of zinc, copper, and uranium, too)...
Nickel Prices Have Fallen Back into Range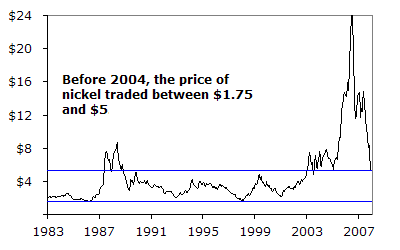 Nickel went on a binge. It's like it took a booze-soaked vacation to Vegas. Now it's back to the boring job building cars... But it's leaving some broken hearts behind.
It's the "new economics" of higher
metal prices
. Now, that's all falling apart...
Take Lundin Mining, a mid-sized base metal producer, for example.
Lundin Mining owns a property that produced 14.6 million pounds of nickel last year. It cost about $7.23 per pound to get that nickel out of the ground. But today, nickel sells at $5.40. The economics are clear – Lundin Mining must either shut down that mine or operate at a loss until prices recover.
And the company is having similar problems at its other properties, where it mines copper, zinc, lead, and silver. In 2007, Lundin's revenues were $1.15 billion. I expect that to fall to $260 million this year. It'll be enough to pay for interest, taxes, and keeping the lights on... but little else.
Right now, the company's market value is around $550 million. That's just over twice my sales estimate – too expensive. I think we need to see another two or three quarters worth of poor results before the market throws in the towel on
base metal
miners.
Good investing,
Matt