Investors have been beaten senseless by the stupid stick.
Last Monday, the U.S. Treasury auctioned off $5 billion of three-month T-bills for 0.00%. That's right. Investors are so desperate for liquidity and safety of principal, they're willing to loan the government money for free.
This is the same government funneling hundreds of billions of dollars into defunct financial firms, insurance companies, and auto manufacturers. It's the same government running printing presses around the clock creating pictures of dead Presidents. And it's the same government inflating the money supply at a 17% annual rate.
Yet, it can get investors and institutions to lend it money for free.
Monday's auction demonstrates the insatiable demand for Treasury securities over any other investment asset. Rather than take the risk of buying blue-chip stocks at cheap valuations and with fat dividend yields... rather than
buy gold
, silver, oil, or any other commodity at fire-sale prices... investors prefer to lock in a guaranteed negative real return.
In this market, liquidity trumps potential. Return of money is more important than return on money. Investors are willing to buy three-month T-bills for no return, and they're locking in 20-year bonds for 3.75%.
Just look at what has happened to U.S. Treasury bonds over the past month...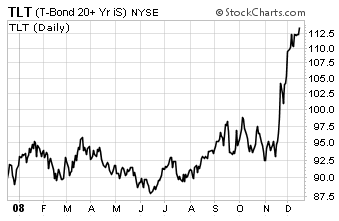 The Lehman 20-Year Treasury Bond index is up 20% since mid-November. You won't often find stocks that make those sorts of gains. Here, we're talking about bonds.
This is an unprecedented move. It's parabolic. And it has all the makings of a bubble.
Like most bubbles, this one is likely to find a pin.
Right now, though, the momentum is solidly behind the bond buyers. So, we probably have another week or two of strength in the Treasury Bond Index. Soon, however, investors will recognize the stupidity of lending money to the government for free. They'll sell the bonds and put the money in other assets with better potential.
You'll want to be short the T-bond market before that happens. As we've seen many times before, when bubbles pop, the damage is immediate.
Best regards and good trading,
Jeff Clark