Housing just keeps getting more affordable.
Today, the median-priced U.S. house is more affordable to the median U.S. consumer than it was in late 1990 – when the last bear market in real estate bottomed.
And if houses are affordable to the average American, then they are also affordable to the average Canadian or European. Foreigners have seen their currency appreciate by as much as 13% against the dollar – just over the past year.
If this trend continues, the housing market may get a boost from overseas investors.
The chart below shows the U.S. housing affordability index. The higher the index, the more affordable the median-priced home is to the median-income U.S. family. (Of course, this is a national median, so in some areas, housing will remain unaffordable regardless of what this index is reading.)
If the index is at 100, then the median-income family can just afford the median-priced home at current mortgage rates. Anything higher than 100 means that the average family can more than afford the median-priced home at current mortgage rates.
Currently, the affordability index is at 118.8 and has risen for the last three months.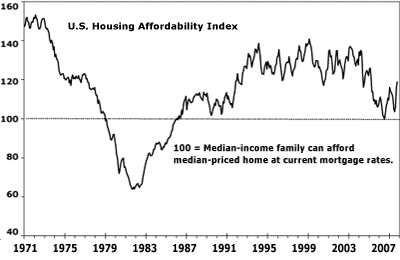 I track five different housing-market indicators: homebuilder valuation, home affordability, supply of homes for sale, homebuilder sentiment, and homebuilder trend.
Currently, home affordability is the only quant factor with a "buy" on homebuilders. The remaining four quant factors are all either "neutral" or "sell."
I expect more of these quant factors to change to positive readings in the next few months. But until they do, we should continue to sit on the sidelines and watch how this bear market develops.
Good investing,
Ian Davis