It's turnaround Tuesday. At least, that's how I'm playing it.
Yesterday's market action was poor. The S&P 500 dropped below the 1,465 support level. That negates the recent bullish series of higher lows and increases the odds of dropping down to test the November lows at about 1,405.
But first... we bounce.
The market is down three days in a row, and it's getting overdone on the downside. Many technical indicators are now stretched far enough that we could see a sharp oversold bounce.
For example, take a look at the following chart of the S&P 500 plotted with the 20-day exponential moving average (EMA)...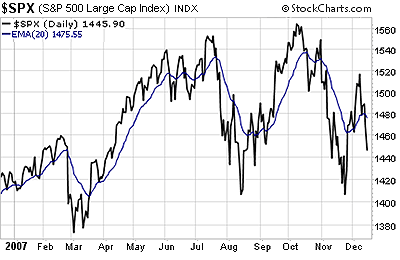 The 20-day EMA is a simple technical indicator that acts like a magnet for the S&P 500 in the short term. The index rarely strays more than 30 points or so from the EMA before snapping back. As you can see from the chart, we're almost exactly 30 points below it right now.
So it's about time for a bounce. And if the market opens lower this morning, then it's probably worth it for short-term traders to take a shot at the long side. We could see a very dramatic reversal.
Remember though, it's only a bounce. The failure of the S&P 500 to hold above 1,465 is bearish and signals lower stock prices over the next week or two. Even if the S&P bounces back above that level, the bullish pattern is broken and needs time to reset.
There is good news, however. So many technical indicators are already stretched so far to the downside that they're unlikely to get much worse. If the S&P 500 retests the November lows – or even makes a modest new low – the technical condition of the market is likely to improve.
This will set the stage for a more meaningful intermediate-term rally early next year.
Until then, however, only the most nimble of traders should venture into the market.
Best regards and good trading,
Jeff Clark