"They can't write off a lap-dance on their company expense reports anymore. But that doesn't stop them from buying 'em anyway."
Jim (not his real name) smiled at me from across the table at his neighborhood strip club – er, gentlemen's club. Jim retired a few years back, but the idea of spending his days lounging by the pool or strolling along the golf course never took hold. Now he's looking for new ways to blow through his retirement nest egg. And that's what led us to our afternoon field trip to the gentlemen's club.
Jim wants to buy the place, and he asked me to take a look at the financials to assess the idea.
So, putting aside my Catholic guilt for a moment, I dove into the numbers – and I have to admit, they look really good.
About one-third of the revenue comes from cover charges – the $15 per person fee charged just to get through the doors. The rest of the money comes from selling food and beverages – at premium prices. On the expense side of the ledger, there are all the entries that you would expect to see for a nightclub: security, labor, insurance, etc.
The strippers – er, dancers – however, don't show up on the expense statement. You see, they're all independent contractors who actually pay the club for the opportunity to dance.
So what you have here is basically a restaurant that charges its diners to come into the place, serves mediocre food at high prices, and has entertainers that pay to be on stage. It's a really, really good business.
If you can get past all the naked bodies, that is.
The profitability of gentlemen's clubs hasn't been lost on Wall Street. Two publicly traded companies operate in this sector – Rick's Cabaret (
RICK
) and VCG Holdings Corporation (PTT). As you can tell from the following chart, it's been a good year...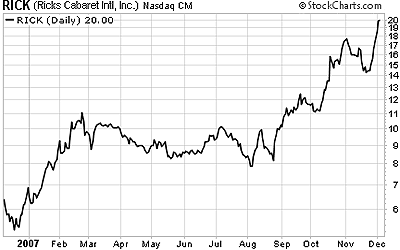 Rick's just recently beat earnings estimates for the past quarter, raised guidance for next year, and expects to double those earnings in 2009.
Both RICK and PTT are small-cap stocks that have more than doubled so far this year – so the stocks are a bit extended over the short term. But they may be attractive buys on a pullback...especially for anyone interested in owning a piece of a gentlemen's club.
After all, business is so good that for a brief moment I actually considered joining Jim in his new venture. But then that old Catholic guilt hit me over the head...
"But Jim," I argued, "you're selling sex."
"No sir," he replied. "I'm selling the illusion of sex. And I'm also selling bottles of Bud for $7.50 a piece."
Best regards and good trading,
Jeff Clark