Homebuilder investors can send their thank-you cards to the Marriner S. Eccles Building on Constitution Avenue in Washington D.C.
It's a beautiful building, finished in 1937, that houses the offices of the board of governors of the Federal Reserve System.
On Tuesday, our friends at the Fed opened the floodgates and cut rates 75 points (0.75%). Along with this rush of liquidity came a stampede of stock buyers. The Dow Industrials scored their biggest one-day gain in five years.
The federal-funds rate is down to 2.25%, and the LIBOR (London Interbank Offered Rate) rate – the "global" interest rate mortgages follow – is down to 2.7%. Here's a graph of this rate, which has drastically declined in the past year:
1 Year LIBOR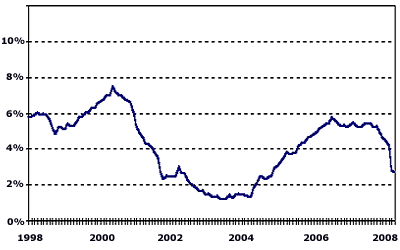 As you can see, interest rates have fallen considerably from their 2006 highs, and are now back to 2002 levels... levels that sparked the last bull market in one of the top insider buying sectors: the homebuilders.
You see, with interest rates down, mortgage rates will follow... And mortgage rates – more than anything – influence the housing market and investor sentiment toward the sector.
Tuesday's amazing rally in the homebuilders – which saw most builders gain 10%-20% – was simply confirmation that the market is ready to send homebuilders higher from their horribly depressed levels.
One of the most bullish signs a sector can display is remaining firm – even rising a bit – in a declining market, when negative sentiment dominates the headlines.
In addition to the big market declines we've seen so far in 2008, investors have seen almost nothing but negative headlines in the past few months... Housing starts are the lowest they've been in 17 years... Bear Stearns is worthless... The U.S. dollar has virtually become a piece of toilet paper... Gold has climbed above $1,000 an ounce... Oil is above $105.
All this news should be bad for homebuilding shares... but the builders have shrugged off the gloom like a teenager shrugs off good advice.
One of the rough homebuilder gauges I follow, the iShares Homebuilder ETF (ITB), has gained 33% from its low in January. So despite all the bad news surrounding homes and builders, shares in this industry look to have formed a bottom.
NVR, Meritage, Brookfield, and Pulte are all major homebuilders displaying nice insider buying. But I think you can probably buy just about any homebuilder and do well over the next year.
Don't forget to write your thank-you cards.
Good trading,
Brian