From both a sociological and analytical point of view, the Japanese market is in the climactic stage of one of the great speculative booms of all time. The market is focusing on themes rather than specifics, like values or earnings.
– Barton Biggs, famed investment analyst, in 1987
It took a few years of folks ignoring Barton Biggs before Japan was struck with one of the greatest stock market collapses in history.
Driven by the amazing industrial transformation that Japan began in the 1950s, the Japanese stock market (the Nikkei) rose 15-fold from 1970 to 1990. Real estate in Japan soared alongside the stock market. Notably, the property of the Emperor's Palace in Tokyo (which is smaller than Central Park) was said to be worth more than all the real estate in California. In addition, Japanese stocks were trading at hugely inflated multiples – 70-80 times earnings.
During the last year of the bull market, 1989, the Nikkei rose 29%. Then, starting on the first trading day of 1990, Japan's "guillotine" stage – the stage where stocks suffer huge losses in a short time – began. Over the next 30 months, the Nikkei fell 63%.
Then came the sandpaper stage... the stage where investors slowly bleed to death and finally sell their shares in disgust. Over the following 11 years, the Nikkei fell an additional 46.8%. Those years were an absolute nightmare for the average Japanese stock investor.
The following chart shows this spectacular rise and cataclysmic fall.
Is the Nikkei Finally Headed for a Recovery?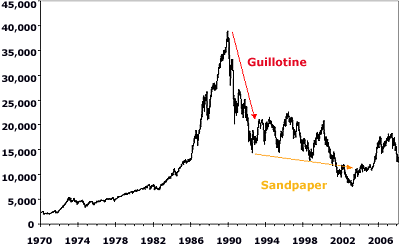 As you can see, after peaking in 1990, the Nikkei made new lows steadily for 13 years. Like all stock markets around the world, it rallied in 2003 and has been slammed in the past six months. So is the carnage finally over? Is Japan's stock market a contrarian's dream right now?
I'd like to say yes... After all, I get interested in any sector that's been pummeled for almost two decades. Currently, the Nikkei is in the midst of a pullback, and if the index can avoid falling to new lows, then the sandpaper stage may well be over.
But an investor's capital is too valuable to jump into a sector whose decline "may well be over."
There are a lot of value investors interested in
Japanese stocks right now
... but these stocks still aren't super cheap and they still haven't started a clear uptrend. The Datastream Japan index is selling for 20.8 times earnings and yielding 1.8%... Plus, the Nikkei is still around the level it was 10 years ago.
For you trend investors out there, I recommend waiting until Japan gets cheaper and proves itself through better price action before taking a position. Japan's "sandpaper stage" isn't over.
Good investing,
Ian Davis